Microsoft Excel 2016 Academic Course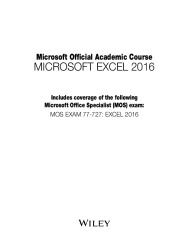 To work efficiently in Microsoft Excel, you need to become familiar with its primary user interface.
You can open Microsoft Excel 2016 in Windows 10 by moving to the lower-left corner of your screen, clicking on Start, clicking All apps, and then clicking Excel 2016.
Table of contents
Overview
Starting Excel create a workbook
Working in the Excel window customize the quick access toolbar
Changing workbook and window views
Change workbook views
Change window views
Working with an existing workbook
Working with Microsoft Excel 2016
Creating workbooks create a workbook
Saving workbooks save workbooks in alternative file formats
Inspect a workbook for compatibility issues.
Entering and editing basic data in a worksheet replace data
Adjust row height and column width.
Fill cells by using auto fill.
Insert and delete cells.
Using data types to populate a worksheet apply number formats
cutting, copying, and pasting data cut, copy, or paste data
editing a workbook's properties
using office backstage
Printing with backstage set a print area.
Print all or part of a workbook
Set print scaling
Modify page setup
Changing the Excel environment customize the quick access toolbar
Accessing and using Excel templates create a workbook
Using basic formulas
Using functions
Perform calculations by using the sum function
Perform calculations by using the count function
Perform calculations by using the average function
Perform calculations by using the min and max functions
Formatting cells and ranges
Formatting worksheets
Managing Worksheets
Working with data and macros
Using advanced formulas
Working with rows and columns
Inserting headers and footers
Preparing a document for printing
Securing and sharing workbooks
Creating charts
Adding pictures and shapes to a worksheet
| | |
| --- | --- |
| Pages : | |
| File type : | pdf |
| Downloads: | 1998 |
| Submitted On: | 2017-09-24 |
| License: | |
| Author(s): | |
Take advantage of this course called Microsoft Excel 2016 Academic Course to improve your Office skills and better understand Excel 2016.
This course is adapted to your level as well as all Excel 2016 pdf courses to better enrich your knowledge.
All you need to do is download the training document, open it and start learning Excel 2016 for free.
This tutorial has been prepared for the beginners to help them understand basic Excel 2016 Office. After completing this tutorial you will find yourself at a moderate level of expertise in Excel 2016 from where you can take yourself to next levels.
This tutorial is designed for Excel 2016 students who are completely unaware of Excel 2016 concepts but they have basic understanding on Office training.
Tutorials in the same categorie :