Microsoft Excel 2016 Course for Beginners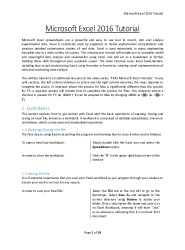 This course is a practical Guide Excel 2016 Level 1 for Beginners in PDF to download for free. The purpose of this training is to identify the elements of the Excel window, to create and format a table, to use a few simple calculation formulas and to print a table.
Table of contents
Excel Basics
Opening/Closing the file
Saving the file
Installing the "Analysis ToolPak" for PC
Installing the "Analysis ToolPak" for Mac
Entering data into Excel
Simple cell formatting
Entering data into cells
Spreadsheet Organization
Subscripts and superscripts
Widening/condensing column widths
Merge and center
Wrapping Text
Cell type
Autofill with patterns
Sorting data
Using formulas and functions
Built-in Functions
Absolute and relative referencing
Data visualization
Inserting a scatter plot
Gridlines and border styles
Extracting tables and graphs
Regression Tool in the Analysis ToolPak for PC/Mac
Using the Analysis ToolPak for PC/Mac
| | |
| --- | --- |
| Pages : | |
| File type : | pdf |
| Downloads: | 2310 |
| Submitted On: | 2017-09-24 |
| License: | |
| Author(s): | |
Take advantage of this course called Microsoft Excel 2016 Course for Beginners to improve your Office skills and better understand Excel 2016.
This course is adapted to your level as well as all Excel 2016 pdf courses to better enrich your knowledge.
All you need to do is download the training document, open it and start learning Excel 2016 for free.
This tutorial has been prepared for the beginners to help them understand basic Excel 2016 Office. After completing this tutorial you will find yourself at a moderate level of expertise in Excel 2016 from where you can take yourself to next levels.
This tutorial is designed for Excel 2016 students who are completely unaware of Excel 2016 concepts but they have basic understanding on Office training.
Tutorials in the same categorie :