Introduction to Excel VBA Macro programming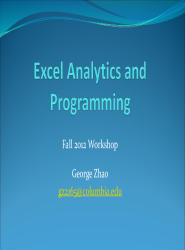 Introduction to Excel VBA Macro programming, Learn Excel tools by utilizing them in various cases, Understand the logic and syntax behind Visual Basic programming, which interacts with the Excel interface.
Table of contents
Goals of the Workshop
Workshop Structure
Workshop Resources
Case 1: Multiplication Table
Case 2: Percentile Calculations
Tutorial 1: Variables and Arrays
Case 3: Hello World
Tutorial 2: Functions
Tutorial 3: Loops and Decisions
Case 4: Gradebook Tallying
Case 5: Loop through Data
Tutorial 4: Recording Macro
Case 6: Select, Pull, Display
Tutorial 5: Userform
Case 7: Subway Data All-Around Analysis
Introduction to VBA
VB (Visual Basic) is a Windows application. It is a programming language, more precisely a modern object-oriented BASIC, which makes it possible to write autonomous applications, that is to say "double clickable". There is currently no version (November 2002) of Visual Basic for Macintosh, and to my knowledge, this is not the order of the day.
VBA (Visual Basic for Applications) is a subset of VB, integrated with Microsoft Office applications. VBA is less powerful than VB (no stand-alone application possible), but has the features of the associated application (Excel, Access, Word, Powerpoint, ...).
Although VB only exists for Windows, VBA is happily present in Office versions for the Macintosh.
To use VBA, you have to leave Excel in a certain way: VBA has an interface of its own, with its menus, preferences and toolbars.
It should be understood that opening Excel gives access to 2 separate software, all 2 capable of interacting with Excel objects. The first is Excel itself, the second is VBA, of course.
The existence of 2 applications is crystal clear in Windows because they appear clearly in the taskbar.
Prior knowledge
Understanding the following requires functional knowledge of Excel.
You will be able to improve your knowledge of this software by reading the content of sections on Excel 2003 and Excel 2007.
| | |
| --- | --- |
| Pages : | |
| File type : | pdf |
| Downloads: | 1387 |
| Submitted On: | 2018-05-23 |
| License: | |
| Author(s): | |
Take advantage of this course called Introduction to Excel VBA Macro programming to improve your Office skills and better understand VBA.
This course is adapted to your level as well as all VBA pdf courses to better enrich your knowledge.
All you need to do is download the training document, open it and start learning VBA for free.
This tutorial has been prepared for the beginners to help them understand basic VBA Office. After completing this tutorial you will find yourself at a moderate level of expertise in VBA from where you can take yourself to next levels.
This tutorial is designed for VBA students who are completely unaware of VBA concepts but they have basic understanding on Office training.
Tutorials in the same categorie :