Pivot Tables in Microsoft Excel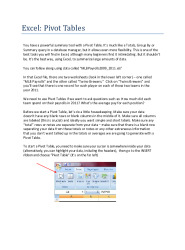 The following is a list of items you should check before creating a Pivot Table. 
A PivotTable, also called a PivotTable report, is used to summarize, analyze, explore, and present a summary of data from a spreadsheet or external data source. It uses two-dimensional data to create a three-dimensional array, based on multiple conditions with intersection points. A pivot table is especially useful when you have a wide range of data that can be viewed from a variety of perspectives.
Contents
The Pivot Table Source Data Checklist
Introduction to Pivot Tables
Organize the Source Data in a Tabular Format
Remove Blank Rows
Remove Blank Columns
Convert Value Fields to Numbers (NOT Text)
Convert Date Fields to Dates (NOT Text)
Date Fields Should Not Contain Blanks
Rename Column Headers
Put Your Source Data in a Table
| | |
| --- | --- |
| Pages : | |
| File type : | pdf |
| Downloads: | 545 |
| Submitted On: | 2018-04-02 |
| License: | |
| Author(s): | |
Take advantage of this course called Pivot Tables in Microsoft Excel to improve your Office skills and better understand Excel Functions.
This course is adapted to your level as well as all Excel Functions pdf courses to better enrich your knowledge.
All you need to do is download the training document, open it and start learning Excel Functions for free.
This tutorial has been prepared for the beginners to help them understand basic Excel Functions Office. After completing this tutorial you will find yourself at a moderate level of expertise in Excel Functions from where you can take yourself to next levels.
This tutorial is designed for Excel Functions students who are completely unaware of Excel Functions concepts but they have basic understanding on Office training.
Tutorials in the same categorie :