Excel 2016 Functions Tutorial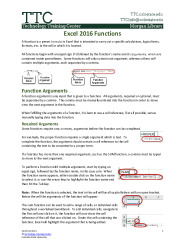 This book covers the advanced features of Microsoft Excel 2016; It is intended for anyone who knows the basics of Excel and wants to go further by learning the advanced functions of this spreadsheet.
Table of contents
Function arguments
Required arguments
Optional arguments
Cell reference
Enter a function
In a cell or a formula bar
Formulas tab
Functions to format text
Upper,Lower,Proper,Trim,..
Calculating functions
Sum,Average,Min,Max,..
Copy and Past function
AutoFill a function
Copy and Past function value
Name a Cell
Round function
Count, CountA
Convert, Substitute
Concatenate
| | |
| --- | --- |
| File size : | 781.41 Kb |
| Downloads: | 558 |
| Submitted On: | 2018-04-02 |
Take advantage of this course called Excel 2016 Functions Tutorial to improve your Office skills and better understand Excel Functions.
This course is adapted to your level as well as all Excel Functions pdf courses to better enrich your knowledge.
All you need to do is download the training document, open it and start learning Excel Functions for free.
This tutorial has been prepared for the beginners to help them understand basic Excel Functions Office. After completing this tutorial you will find yourself at a moderate level of expertise in Excel Functions from where you can take yourself to next levels.
This tutorial is designed for Excel Functions students who are completely unaware of Excel Functions concepts but they have basic understanding on Office training.
Tutorials in the same categorie :