Microsoft Office 365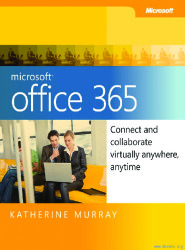 Download free course Microsoft Office 365, pdf file on 337 pages by Katherine Murray.
Office 365 is Microsoft's smart and simple answer to cloud computing. Using the various programs in Office 365, you can do all the tasks you're used to doing in your favorite Office applications - write documents, create presentations, check email, manage your calendar, crunch numbers, and more - and then share what you create in real time on a team site, design and publish a website, and even create and host live online meetings while you're traveling on the train, sitting in a coffee shop, or dialing in on your phone.

This book shows you how you can use cloud computing - and ­specifically, ­Office 365 - to get more done, collaborate more easily, and work more ­flexibly than you ever have before. From the necessary how-tos about ­creating and administering your Office 365 account and working with the various Office 365 programs to sharing files with your team, creating a team site, using Office Web Apps, and holding online meetings, you'll discover how easy it is to work online and off, accessing and sharing your files whenever you need to. After you learn about each of the core programs, you can try strategies for building successful teams, and get some good ideas on practical ways you can put all this cloud power to work.
Table of contents
Finding Your Place in the Cloud

What's Happening with the World of Work?

Getting Started with Office 365

Administering an Office 365 Account

Teamwork in the Cloud

What Your Team Can Do with Office 365

Creating Your Team Site with SharePoint Online

Posting, Sharing, and Managing Files

Adding and Managing Workflows

Working with Office 2010 Web Apps

Going Mobile with Office 365

Connecting in Real Time

Email and Organize with Office 365

Talking It Over with Microsoft Lync

Designing Your Public Website

Integrating All Parts of Office 365
| | |
| --- | --- |
| Pages : | 337 |
| File type : | PDF |
| Downloads: | 20 |
| Submitted On: | 2022-02-03 |
| License: | Open Publication License |
| Author(s): | Katherine Murray |
Take advantage of this course called Microsoft Office 365 to improve your Office skills and better understand office.
This course is adapted to your level as well as all office pdf courses to better enrich your knowledge.
All you need to do is download the training document, open it and start learning office for free.
This tutorial has been prepared for the beginners to help them understand basic office Office. After completing this tutorial you will find yourself at a moderate level of expertise in office from where you can take yourself to next levels.
This tutorial is designed for office students who are completely unaware of office concepts but they have basic understanding on Office training.
Tutorials in the same categorie :