Learning PHP language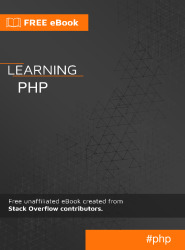 Download this free eBook to learn the PHP language, a detailed 625-page document created by Stackoverflow.
Summary
Get started with PHP
HTML output from the web server
Non-HTML output of the Web server
Online class definition, no loading required
Manual loading of classes with require
Automatic loading replaces loading of manual class definition
Autoloading as part of a framework solution
Automatic loading with Composer
Chain analysis
Find a substring with strpos
Checking the existence of a substring
HTML analysis from a string
Use XPath
SimpleXML
AOP
PDO basic connection and recovery
Prevent SQL injection with parameterized queries
PDO: connection to the MySQL / MariaDB server
PDO: get the number of rows affected by a query
PDO :: lastInsertId ()
Simple storage and recovery
Store Information
Iterate on the inputs
Automatic learning
Classification using PHP-ML
SVC (Support Vector Classification)
HTTP authentication
Comparison between BCMath and float arithmetic operations
Set a cookie
Recover a cookie
Edit a cookie
Caching using memcache
Store data
Add or subtract date ranges
Create DateTime from custom format
Classes and interface components
Name spacing and automatic loading
Dynamic binding
Comments on a single line
Automatic loading with Composer
Benefits of using Composer
Establishment of a basic development environment
Chapter 25: Coding Conventions
Get a docker image for php
Managing socket errors
UDP server socket
Creating a UDP server socket
Install command line with APT for PHP 7
Installing in Enterprise Linux Distributions
Install a PHP environment on Windows
| | |
| --- | --- |
| Pages : | |
| File type : | pdf |
| Downloads: | 869 |
| Submitted On: | 2019-04-21 |
| License: | |
| Author(s): | |
Take advantage of this course called Learning PHP language to improve your Web development skills and better understand PHP.
This course is adapted to your level as well as all PHP pdf courses to better enrich your knowledge.
All you need to do is download the training document, open it and start learning PHP for free.
This tutorial has been prepared for the beginners to help them understand basic PHP Web development. After completing this tutorial you will find yourself at a moderate level of expertise in PHP from where you can take yourself to next levels.
This tutorial is designed for PHP students who are completely unaware of PHP concepts but they have basic understanding on Web development training.
Tutorials in the same categorie :