HTML5 canvas tutorial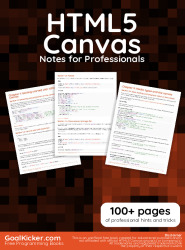 Download free HTML5 tutorial course in PDF, training file in 18 chapters and 180 pages. Free unaffiliated ebook created from Stack OverFlow contributor.
Table of contents
About
Getting started with HTML5 Canvas
Detecting mouse position on the canvas
Canvas size and resolution
Rotate
Save canvas to image ?le
How to add the Html5 Canvas Element to a webpage
An index to Html5 Canvas Capabilities & Uses
O? screen canvas
Hello World
Text
Justi?ed text
Justi?ed paragraphs
Rendering text along an arc
Text on curve, cubic and quadratic beziers
Drawing Text
Formatting Text
Wrapping text into paragraphs
Draw text paragraphs into irregular shapes
Fill text with an image
Polygons
Render a rounded polygon
Stars
Regular Polygon
Images
Is "contextdrawImage" not displaying the image on the Canvas?
The Tained canvas
Image cropping using canvas
Scaling image to ?t or ?ll
Path (Syntax only)
createPattern (creates a path styling object)
stroke (a path command)
?ll (a path command)
clip (a path command)
Overview of the basic path drawing commands: lines and curves
lineTo (a path command)
arc (a path command)
quadraticCurveTo (a path command)
bezierCurveTo (a path command)
arcTo (a path command)
rect (a path command)
closePath (a path command)
beginPath (a path command)
lineCap (a path styling attribute)
lineJoin (a path styling attribute)
strokeStyle (a path styling attribute)
?llStyle (a path styling attribute)
Text
Images
Paths
Dragging Path Shapes & Images on Canvas
Animation
Clearing the screen
Shadows
Transformations
Pixel Manipulation with "getImageData" and "putImageData"
It is a free HTML5 ebook created for beginners. The content is extracted from Stack Overflow pltaform, which is written by many HTML5 developers and contributors.
The content is released under Creative Commons BY-SA
| | |
| --- | --- |
| Pages : | |
| File type : | pdf |
| Downloads: | 752 |
| Submitted On: | 2019-04-30 |
| License: | |
| Author(s): | |
Take advantage of this course called HTML5 canvas tutorial to improve your Web development skills and better understand HTML5.
This course is adapted to your level as well as all HTML5 pdf courses to better enrich your knowledge.
All you need to do is download the training document, open it and start learning HTML5 for free.
This tutorial has been prepared for the beginners to help them understand basic HTML5 Web development. After completing this tutorial you will find yourself at a moderate level of expertise in HTML5 from where you can take yourself to next levels.
This tutorial is designed for HTML5 students who are completely unaware of HTML5 concepts but they have basic understanding on Web development training.
Tutorials in the same categorie :