React JS Notes for Professionals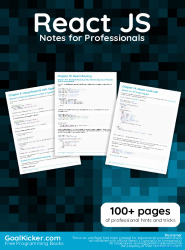 Download free course React JS Notes for Professionals, pdf file on 109 pages by Stack Overflow Community.
The React JS Notes for Professionals book is compiled from Stack Overflow Documentation, the content is written by the beautiful people at Stack Overflow.
Table of contents
Getting started with React

Components

Using ReactJS with TypeScript

State in React

Props in React

React Component Lifecycle

Forms and User Input

React Boilerplate [React + Babel + Webpack]

Using ReactJS with jQuery

React Routing

Communicate Between Components

How to setup a basic webpack, react and babel environment

React.createClass vs extends React.Component

React AJAX call

Communication Between Components

Stateless Functional Components

Performance

Introduction to Server-Side Rendering

Setting Up React Environment

Using React with Flow

JSX

React Forms

User interface solutions

Using ReactJS in Flux way

React, Webpack & TypeScript installation

How and why to use keys in React

Keys in react

Higher Order Components

React with Redux

Installation

React Tools
| | |
| --- | --- |
| Pages : | 109 |
| File type : | PDF |
| Downloads: | 51 |
| Submitted On: | 2022-02-03 |
| License: | CC BY-SA |
| Author(s): | Stack Overflow Community |
Take advantage of this course called React JS Notes for Professionals to improve your Web development skills and better understand react.
This course is adapted to your level as well as all react pdf courses to better enrich your knowledge.
All you need to do is download the training document, open it and start learning react for free.
This tutorial has been prepared for the beginners to help them understand basic react Web development. After completing this tutorial you will find yourself at a moderate level of expertise in react from where you can take yourself to next levels.
This tutorial is designed for react students who are completely unaware of react concepts but they have basic understanding on Web development training.
Tutorials in the same categorie :