Download ASP.NET tutorial in PDF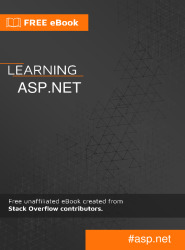 Table of contents
About
Getting started with ASP.NET
Remarks
Examples
Installation or Setup
ASP.NET Overview
Hello World with OWIN
Simple Intro of ASP.NET
Asp Web Forms Identity
Examples
Getting Started
ASP.NET - Basic Controls
Syntax
Examples
Text Boxes and Labels
Check Boxes and Radio Buttons
List Controls
Radio Button list and Check Box list
Bulleted lists and Numbered lists
HyperLink Control
Image Control
ASP.NET - Managing State
Examples
View State
ASP.NET - User Controls
Introduction
Examples
Introduction of User Controls
Creating User Control Instance Programmatically
Adding Custom Properties for User Control
Asp Web Forms Identity
ASP.NET - Managing State
ASP.NET - Validators
ASP.NET Caching
Data List
Directives
Event Handling
Find Control by ID
httpHandlers
Middleware
Page Methods
ScriptManager
Session State
View State
WebForms
It is a free ASP.NET ebook created for beginners. The content is extracted from Stack Overflow pltaform, which is written by many ASP.NET developers and contributors.
The content is released under Creative Commons BY-SA
| | |
| --- | --- |
| Pages : | |
| File type : | pdf |
| Downloads: | 469 |
| Submitted On: | 2019-05-02 |
| License: | |
| Author(s): | |
Take advantage of this course called Download ASP.NET tutorial in PDF to improve your Web development skills and better understand ASP.NET.
This course is adapted to your level as well as all ASP.NET pdf courses to better enrich your knowledge.
All you need to do is download the training document, open it and start learning ASP.NET for free.
This tutorial has been prepared for the beginners to help them understand basic ASP.NET Web development. After completing this tutorial you will find yourself at a moderate level of expertise in ASP.NET from where you can take yourself to next levels.
This tutorial is designed for ASP.NET students who are completely unaware of ASP.NET concepts but they have basic understanding on Web development training.
Tutorials in the same categorie :