HTML5 tutorial for professionals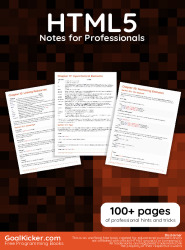 Download free HTML5 tutorial course in PDF, training file in 41 chapters and 124 pages. Free unaffiliated ebook created from Stack OverFlow contributor.
Table of contents
About
Getting started with HTML
Hello World
Doctypes
Adding the Doctype
HTML 5 Doctype
Headings
Using Headings
Paragraphs
HTML Paragraphs
Text Formatting
Highlighting
Bold, Italic, and Underline
Abbreviation
Inserted, Deleted, or Stricken
Superscript and Subscript
Anchors and Hyperlinks
Link to another site
Link to an anchor
Link to a page on the same site
Link that dials a number
Open link in new tab/window
Link that runs JavaScript
Link that runs email client
Lists
Ordered List
Unordered List
Nested lists
Description List
Tables
Simple Table
Spanning columns or rows
Column Groups
Table with thead, tbody, tfoot, and caption
Heading scope
Comments
Creating comments
Commenting out whitespace between inline elements
Classes and IDs
Giving an element a class
Giving an element an ID
Acceptable Values
Problems related to duplicated IDs
Data Attributes
Older browsers support
Data Attribute Use
Doctypes
Paragraphs
Anchors and Hyperlinks
Tables
Classes and IDs
Linking Resources
Using HTML with CSS
Image Maps
Forms
Sectioning Elements
Label Element
Void Elements
Progress Element
Embed
Content Languages
Canvas
Marking up computer code
Tabindex
HTML 5 Cache
Character Entities
It is a free HTML5 ebook created for beginners. The content is extracted from Stack Overflow pltaform, which is written by many HTML5 developers and contributors.
The content is released under Creative Commons BY-SA
| | |
| --- | --- |
| Pages : | |
| File type : | pdf |
| Downloads: | 779 |
| Submitted On: | 2019-04-30 |
| License: | |
| Author(s): | |
Take advantage of this course called HTML5 tutorial for professionals to improve your Web development skills and better understand HTML5.
This course is adapted to your level as well as all HTML5 pdf courses to better enrich your knowledge.
All you need to do is download the training document, open it and start learning HTML5 for free.
This tutorial has been prepared for the beginners to help them understand basic HTML5 Web development. After completing this tutorial you will find yourself at a moderate level of expertise in HTML5 from where you can take yourself to next levels.
This tutorial is designed for HTML5 students who are completely unaware of HTML5 concepts but they have basic understanding on Web development training.
Tutorials in the same categorie :