Download free PHP course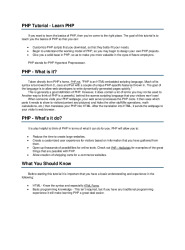 With this PDF tutorial you will learn the basics of PHP ,understand the working model of PHP to begin coding your own projects and scripts.Free courses under 95 pages designated to beginners.
Table of contents
PHP - What is it? 
PHP - What's it do? 
What You Should Know 
Syntax of PHP
How to Save Your PHP Pages 
Example Simple HTML & PHP Page 
PHP and HTML Code
Variables
A Quick Variable Example 
Outputting a String
Echoing Variables and Text Strings
String Creation
String Creation Single Quotes 
String Creation Double-Quotes 
Assignment Operators
Arithmetic Operators 
Comparison Operators 
Combination Arithmetic & Assignment Operators
Using Comments in PHP 
The Include Function
The If Statement
If/Else Conditional Statment 
PHP Switch Statement 
Creating Your First PHP Function
Simple While Loop Example 
GET and POST in PHP
| | |
| --- | --- |
| Pages : | |
| File type : | pdf |
| Downloads: | 11267 |
| Submitted On: | 2015-12-30 |
| License: | |
| Author(s): | |
Take advantage of this course called Download free PHP course to improve your Web development skills and better understand PHP.
This course is adapted to your level as well as all PHP pdf courses to better enrich your knowledge.
All you need to do is download the training document, open it and start learning PHP for free.
This tutorial has been prepared for the beginners to help them understand basic PHP Web development. After completing this tutorial you will find yourself at a moderate level of expertise in PHP from where you can take yourself to next levels.
This tutorial is designed for PHP students who are completely unaware of PHP concepts but they have basic understanding on Web development training.
Tutorials in the same categorie :