HTML5 training guide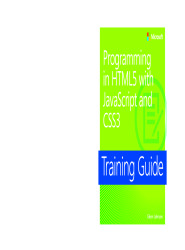 Description :
This training guide is designated to IT professionals who want to develop with HTML documents such as websites or webapplications. It is assumed that you are familiar with web development,free courses in PDF for download under 681 pages.
Table of contents
Getting started with HTML5
Understanding HTML, XHTML, and HTML5
Introducing semantic markup
Working with elements
Creating an HTML document
Getting started with JavaScript
Converting to a different type
Conditional programming
Implementing code loops
Getting started with CSS3
More HTML5 205
Essential JavaScript and jQuery
Working with forms
Websites and services
WebSocket communications
HTML5 supports multimedia
Drawing with HTML5
Local data with web storage
Working with arrays
Accessing DOM objects
Lesson summary
| | |
| --- | --- |
| File Size : | 14,301.49 Kb |
| Downloads : | 883 |
| Submitted On: | 2015-11-20 |
Take advantage of this course called HTML5 training guide to improve your Web development skills and better understand html.
This course is adapted to your level as well as all html pdf courses to better enrich your knowledge.
All you need to do is download the training document, open it and start learning html for free.
This tutorial has been prepared for the beginners to help them understand basic html Web development. After completing this tutorial you will find yourself at a moderate level of expertise in html from where you can take yourself to next levels.
This tutorial is designed for html students who are completely unaware of html concepts but they have basic understanding on Web development training.
With this tutorial you will learn how to write your first Django application, free training document intended to beginners.
---
This tutorial guides you step by step to create an ASP.NET Web pages ,free training document under 62 pages by Erik Reitan.
---
This is a jQuery tutorial for beginners, it provides in-depth knowledge of jQuery technology. This jQuery tutorial will help you learn jQuery basics, examples, selectors, events, effects, CSS, and attributes.
---
This tutorial aim to provide a gentle introduction to these amazing new web technologies, and to show you some cool ways of incorporating them into your websites.
---
This tutorial contain a brief overview about HTML5 and CSS3 , a free training document in PDF under 45 pages by Jason Clark.
---
Download a complet PDF tutorial about XHTML, free training document under 27 pages intended to the beginners.
---
You are here:  

Home

/

HTML5 training guide