Learn to build with PHP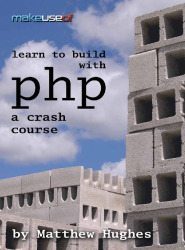 This is a free PHP PDF tutorial in 9 chapters and 29 pages. This course aims to give students the basics of PHP concepts.
This is a pretty short book, but we're going to cover a lot. In just a few pages, we're going to create a simple clone of Twitter.
Whilst it's not going to have the same feature-set and polish of the popular micro-blogging site, but we will be able to post 140 character messages with an account we will log into.
Table of contents
Introduction
The History Of PHP
What Are We Going To Cover?
All About LAMP
Setting Up Your Development Environment
Choosing The Right Text Editor
Prerequisites
Hello World!
Does PHP Have To Be Surrounded By HTML?
Basic Language Concepts
Variables
If Statements
While Statements
For Loops
Functions
Moving On
Forms
How Forms Work In HTML
Creating Our First Form
Handling This Input With PHP
Databases
MySQL Datatypes
Varchar(x)
Integer
Other MySQL Datatypes
Creating Our Database
The Wrong Way To Query The Database
| | |
| --- | --- |
| Pages : | |
| File type : | pdf |
| Downloads: | 1364 |
| Submitted On: | 2019-05-03 |
| License: | |
| Author(s): | |
Take advantage of this course called Learn to build with PHP to improve your Web development skills and better understand PHP.
This course is adapted to your level as well as all PHP pdf courses to better enrich your knowledge.
All you need to do is download the training document, open it and start learning PHP for free.
This tutorial has been prepared for the beginners to help them understand basic PHP Web development. After completing this tutorial you will find yourself at a moderate level of expertise in PHP from where you can take yourself to next levels.
This tutorial is designed for PHP students who are completely unaware of PHP concepts but they have basic understanding on Web development training.
Tutorials in the same categorie :