Getting started with PHP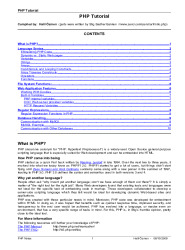 Description :
Download free PHP tutorial in PDF ,training document under 10 pages for beginners.Learn how to easy code your first PHP script.
Table of contents
Introduction
Language Syntax 
Embedding PHP Code
PHP and dynmaic sites
Dynamic vs Static Web pages
Variables,String and Arrays
Conditionals and Looping Constructs
Array Traverse Constructs
Operators and Functions
Web Application Features
Working With Cookies
Examples of sources codes
PHP internal variables
HTTP Request Variables
Regular Expressions
Regular Expression Functions in PHP
Database Handling
| | |
| --- | --- |
| File Size : | 144.13 Kb |
| Downloads : | 743 |
| Submitted On: | 2015-11-16 |
Take advantage of this course called Getting started with PHP to improve your Web development skills and better understand PHP.
This course is adapted to your level as well as all PHP pdf courses to better enrich your knowledge.
All you need to do is download the training document, open it and start learning PHP for free.
This tutorial has been prepared for the beginners to help them understand basic PHP Web development. After completing this tutorial you will find yourself at a moderate level of expertise in PHP from where you can take yourself to next levels.
This tutorial is designed for PHP students who are completely unaware of PHP concepts but they have basic understanding on Web development training.
Download free training document tutorial about the basics of framework AngularJS.
---
Download this free eBook to learn the PHP language, a detailed 625-page document created by Stackoverflow.
---
Symphony lets you develop faster and build more robust and efficient web site and application,it's important for every web developer. This tutorial explains the fundamental concept and the basics of Symphony.
---
With this tutorial you will learn how to build your own dynamic web site with PHP , a free training document under 21 pages for downloading.
---
With this PDF tutorial you will learn the basics of PHP ,understand the working model of PHP to begin coding your own projects and scripts.Free courses under 95 pages designated to beginners.
---
Download free PHP tutorial course in PDF, training file in 107 chapters and 481 pages. Free unaffiliated ebook created from Stack OverFlow contributor.
---
You are here:  

Home

/

Getting started with PHP