Creat dynamic site with PHP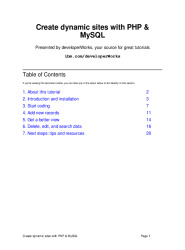 Description :
With this tutorial you will learn how to build your own dynamic web site with PHP , a free training document under 21 pages for downloading.
Table of contents
About this tutorial
Introduction and installation
The need for dynamic content
Installing Apache server routines
Installing MySQL
Installing PHP
Start coding
Your first PHP script
Add new records
Creating an HTML form
Get a better view
Passing variables
Delete, edit, and search data
Next steps: tips and resources
| | |
| --- | --- |
| File Size : | 611.89 Kb |
| Downloads : | 1302 |
| Submitted On: | 2015-11-16 |
Take advantage of this course called Creat dynamic site with PHP to improve your Web development skills and better understand PHP.
This course is adapted to your level as well as all PHP pdf courses to better enrich your knowledge.
All you need to do is download the training document, open it and start learning PHP for free.
This tutorial has been prepared for the beginners to help them understand basic PHP Web development. After completing this tutorial you will find yourself at a moderate level of expertise in PHP from where you can take yourself to next levels.
This tutorial is designed for PHP students who are completely unaware of PHP concepts but they have basic understanding on Web development training.
Download free Angular JS tutorial course in PDF, training file in 52 chapters and 201 pages. Free unaffiliated ebook created from Stack OverFlow contributor.
---
Training support to learn how to use Prestashop, what is PrestaShop doing? Why choose PrestaShop compared to its competitors?
---
Download free PDF tutorial about Django framework with Python, document under 40 page by Zhaojie Zhang.
---
Download free training document to learn how to create a web pages using MySQL, PHP and PDO .Course material, tutorial training, PDF file on 11 pages intended to beginners by Paul DuBois.
---
With this PDF tutorial you will learn the basics of PHP ,understand the working model of PHP to begin coding your own projects and scripts.Free courses under 95 pages designated to beginners.
---
The purpose of this PDF tutorial is to provide a basic guide for student interested in Object Oriented Programming in PHP5 to build a dynamic web application.
---
You are here:  

Home

/

Creat dynamic site with PHP