Tutorial Access 2016 in PDF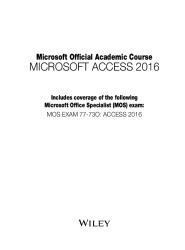 Download free Tutorial in PDF about Microsoft Access 2016 (course, exams and exercises), a complet training document course on 322 pages for beginners by MARY LEMONS.
Table of contents
LESSON 1: DATABASE ESSENTIALS 1
LESSON 2: CREATING DATABASE TABLES 22
LESSON 3: WORKING WITH TABLES AND DATABASE RECORDS 35
LESSON 4: MODIFYING TABLES AND FIELDS 58
LESSON 5: CREATING FORMS 77
LESSON 6: CREATING REPORTS 91
LESSON 7: CREATING AND MODIFYING QUERIES 107
LESSON 8: USING CONTROLS IN REPORTS AND FORMS 126
LESSON 9: ADVANCED TABLES 164
LESSON 10: ADVANCED FORMS 177
LESSON 11: ADVANCED REPORTS 193
LESSON 12: ADVANCED QUERIES 212
LESSON 13: DISPLAYING AND SHARING DATA 244
LESSON 14: IMPORTING AND EXPORTING DATA 260
LESSON 15: DATABASE TOOLS 280
APPENDIX A 301
INDEX 305
Introduction to Access 2016
ACCESS 2016 is a tool that will allow you to manage information through a database and input interface and presentation.
ACCESS 2016 includes the features you're used to, as well as new features, enhancements, and major new Office 2016 features.
Beginning with ACCESS 2016 introductory training that will introduce you to Microsoft Office ACCESS 2016 and help you to discover Microsoft Office ACCESS 2016 and its work environment, to get started on Microsoft Office ACCESS 2016.
During this ACCESS 2016 Initiation training, Pascale will detail the interface of the Microsoft Office ACCESS 2016 software with the generalities on the ACCESS 2016 interface and the database creation features and different objects such as tables, forms and states. She will accompany you in the realization of a mini-project of application on a concrete case allowing to immediately implement the acquired knowledge and to progress in the complete realization of an ACCESS application.
After this first introductory training at ACCESS 2016, you will be entitled to other Microsoft ACCESS training courses 2016 more advanced.
Objectives
To learn and master the interface and to know the basics of the Microsoft Office ACCESS 2016 software,
Create a database and an application from good design practices,
Create tables, connect them, and create simple form and report objects using Microsoft Office ACCESS 2016,
| | |
| --- | --- |
| Pages : | |
| File type : | pdf |
| Downloads: | 5691 |
| Submitted On: | 2018-05-28 |
| License: | |
| Author(s): | |
Take advantage of this course called Tutorial Access 2016 in PDF to improve your Office skills and better understand Access.
This course is adapted to your level as well as all Access pdf courses to better enrich your knowledge.
All you need to do is download the training document, open it and start learning Access for free.
This tutorial has been prepared for the beginners to help them understand basic Access Office. After completing this tutorial you will find yourself at a moderate level of expertise in Access from where you can take yourself to next levels.
This tutorial is designed for Access students who are completely unaware of Access concepts but they have basic understanding on Office training.
Tutorials in the same categorie :