Guide Excel 2010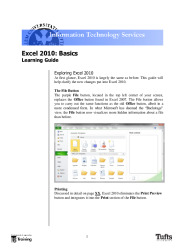 A little guide in PDF,it will clarify the new basics features added to Microsoft Excel 2010 ,free training tutorial under 24 pages.
Table of contents
Introduction
Microsoft Excel 2010
Printing
Copying and Pasting
Protected View
Sparklines
The quick access toolbar
Customising ribbon
Worksheets
Locating the active Cell
Selecting multiple Cells
Moving data
Creating a basic spreadsheet
Editing exisiting data
Saving your document
Applying a background color
Getting help in Excel
| | |
| --- | --- |
| Pages : | |
| File type : | pdf |
| Downloads: | 854 |
| Submitted On: | 2015-11-26 |
| License: | |
| Author(s): | |
Take advantage of this course called Guide Excel 2010 to improve your Office skills and better understand Excel 2010.
This course is adapted to your level as well as all Excel 2010 pdf courses to better enrich your knowledge.
All you need to do is download the training document, open it and start learning Excel 2010 for free.
This tutorial has been prepared for the beginners to help them understand basic Excel 2010 Office. After completing this tutorial you will find yourself at a moderate level of expertise in Excel 2010 from where you can take yourself to next levels.
This tutorial is designed for Excel 2010 students who are completely unaware of Excel 2010 concepts but they have basic understanding on Office training.
Tutorials in the same categorie :