Using Perl 6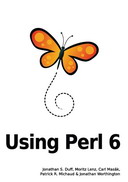 This book is primarily for people who want to learn Perl 6. It teaches the basics from a Perl 6 perspective, touching on variable interpolation, datastructure use, object construction, threads, closures, symbol tables, and other core features. It then introduces continuations, coroutines, binding (or aliases), hyper operators that work on lists of data at once, set operators that work on complex datatypes, lightweight multidimensional arrays, strong type checking, autoboxing, precompilation, automatic module dependency installation, and more.
| | |
| --- | --- |
| Pages : | : N/A |
| File type : | pdf |
| Downloads: | 10 |
| Submitted On: | 2020-08-30 |
| License: | CC BY-NC-SA 2.5 |
| Author(s): | |
Take advantage of this course called Using Perl 6 to improve your Programming skills and better understand Perl.
This course is adapted to your level as well as all Perl pdf courses to better enrich your knowledge.
All you need to do is download the training document, open it and start learning Perl for free.
This tutorial has been prepared for the beginners to help them understand basic Perl Programming. After completing this tutorial you will find yourself at a moderate level of expertise in Perl from where you can take yourself to next levels.
This tutorial is designed for Perl students who are completely unaware of Perl concepts but they have basic understanding on Programming training.
Tutorials in the same categorie :