Python for Informatics: Exploring Information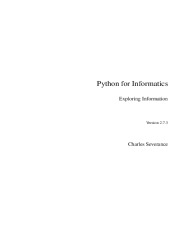 This book is designed to introduce students to programming and computational thinking through the lens of exploring data. You can think of Python as your tool to solve problems that are far beyond the capability of a spreadsheet. It is an easy-to-use and easy-to learn programming language that is freely available on Windows, Macintosh, and Linux computers.
This book provides an Informatics-oriented introduction to programming. The primary difference between a computer science approach and the Informatics approach taken in this book is a greater focus on using Python to solve data analysis problems common in the world of Informatics. The book is an open textbook and is based on the open book titled, Python for Software Design: How to Think Like a Computer Scientist (Allen B. Downey).
| | |
| --- | --- |
| Pages : | 244 pages |
| File type : | pdf |
| Downloads: | 51 |
| Submitted On: | 2020-08-30 |
| License: | Creative Common Attribution-NonCommercial-ShareAlike 3.0 Unported License |
| Author(s): | Charles Severance |
Take advantage of this course called Python for Informatics: Exploring Information to improve your Programming skills and better understand Python.
This course is adapted to your level as well as all Python pdf courses to better enrich your knowledge.
All you need to do is download the training document, open it and start learning Python for free.
This tutorial has been prepared for the beginners to help them understand basic Python Programming. After completing this tutorial you will find yourself at a moderate level of expertise in Python from where you can take yourself to next levels.
This tutorial is designed for Python students who are completely unaware of Python concepts but they have basic understanding on Programming training.
Tutorials in the same categorie :