Libelf by Example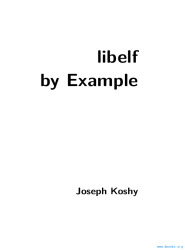 Download free course Libelf by Example, pdf file on 61 pages by Joseph Koshy.
This tutorial introduces libelf, a library for reading and writing object code in the Extensible Linking Format (ELF) file format.
- Getting started with libelf: obtaining a handle to an ELF object, establishing a working ELF version, and handling errors reported by libelf.
- How ELF data structures are laid out in-memory and on disk, the notions of "file representation" and "memory representation", how to write applications that can handle non-native binaries.
- ELF Segments and the ELF Program Header Table, retrieving the program header table from an ELF executable and the meaning of the fields of a program header table entry.
- How data is stored inside ELF sections, the ELF Section Header Table, and how to traverse the sections in an ELF object.
- How to create new ELF objects: the rules for ordering individual API calls, the default object layout implemented by libelf, and how to specify custom layouts.
- ar archives: their structure, and how to read the contents of these archives using the APIs provided by libelf.

The example programs in this tutorial are written in the C programming language.

While written for the libelf implementation that is part of the Elftoolchain open-source project, this tutorial is expected to be compatible with other libelf implementations, such as that offered by the GNU project.
Table of contents
Introduction

Getting Started

Peering Inside an ELF Object

Examining the Program Header Table

Looking at Sections

Creating New ELF Objects

Processing ar archives

Conclusion
| | |
| --- | --- |
| Pages : | 61 |
| File type : | PDF |
| Downloads: | 7 |
| Submitted On: | 2022-02-03 |
| License: | Open Publication License |
| Author(s): | Joseph Koshy |
Take advantage of this course called Libelf by Example to improve your Others skills and better understand Computer science.
This course is adapted to your level as well as all Computer science pdf courses to better enrich your knowledge.
All you need to do is download the training document, open it and start learning Computer science for free.
This tutorial has been prepared for the beginners to help them understand basic Computer science Others. After completing this tutorial you will find yourself at a moderate level of expertise in Computer science from where you can take yourself to next levels.
This tutorial is designed for Computer science students who are completely unaware of Computer science concepts but they have basic understanding on Others training.
Tutorials in the same categorie :