Think Data Structures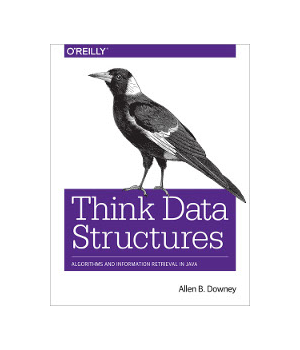 If you're a student studying computer science or a software developer preparing for technical interviews, this practical book will help you learn and review some of the most important ideas in software engineering - data structures and algorithms - in a way that's clearer, more concise, and more engaging than other materials. By emphasizing practical knowledge and skills over theory, author Allen Downey shows you how to use data structures to implement efficient algorithms, and then analyze and measure their performance. You'll explore the important classes in the Java collections framework (JCF), how they're implemented, and how they're expected to perform. Each chapter presents hands-on exercises supported by test code online. Use data structures such as lists and maps, and understand how they work; Build an application that reads Wikipedia pages, parses the contents, and navigates the resulting data tree; Analyze code to predict how fast it will run and how much memory it will require; Write classes that implement the Map interface, using a hash table and binary search tree; Build a simple web search engine with a crawler, an indexer that stores web page contents, and a retriever that returns user query results.
Download free tutorial in PDF (128 pages) created by .
| | |
| --- | --- |
| Pages : | 128 |
| File type : | HTML |
| Downloads: | 17 |
| Submitted On: | 2021-05-15 |
| License: | Free |
| Author(s): | |
Take advantage of this course called Think Data Structures to improve your Others skills and better understand Data Structures.
This course is adapted to your level as well as all Data Structures pdf courses to better enrich your knowledge.
All you need to do is download the training document, open it and start learning Data Structures for free.
This tutorial has been prepared for the beginners to help them understand basic Data Structures Others. After completing this tutorial you will find yourself at a moderate level of expertise in Data Structures from where you can take yourself to next levels.
This tutorial is designed for Data Structures students who are completely unaware of Data Structures concepts but they have basic understanding on Others training.
Tutorials in the same categorie :