Problem Solving with Algorithms and Data Structures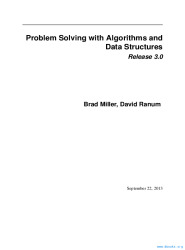 Download free tutorial in Algorithms and data structures created by Brad Miller and David ranum.
Table of contents
Objectives
Getting Started
What Is Computer Science?
Review of Basic Python
Summary Key Terms
Programming Exercises
Algorithm Analysis
Objectives
What Is Algorithm Analysis?
Performance of Python Data Structures
Summary
Key Terms
Discussion Questions
Programming Exercises
Basic Data Structures
Objectives
What Are Linear Structures?
Stacks
The Stack Abstract Data Type
Queues
Deques
Lists
The Unordered List Abstract Data Type
Implementing an Unordered List: Linked Lists
The Ordered List Abstract Data Type
Programming Exercises
Recursion
What is Recursion?
Stack Frames: Implementing Recursion
Visualising Recursion
Complex Recursive Problems
Programming Exercises
Sorting and Searching
Searching
Sorting
Programming Exercises
Trees and Tree Algorithms
Examples Of Trees
Vocabulary and Definitions
Implementation
Priority Queues with Binary Heaps
Binary Tree Applications
Tree Traversals
Discussion Questions
Programming Exercises
JSON 235
| | |
| --- | --- |
| Pages : | |
| File type : | pdf |
| Downloads: | 82 |
| Submitted On: | 2021-05-09 |
| License: | |
| Author(s): | |
Take advantage of this course called Problem Solving with Algorithms and Data Structures to improve your Programming skills and better understand Algorithms, Data Structures.
This course is adapted to your level as well as all Algorithms, Data Structures pdf courses to better enrich your knowledge.
All you need to do is download the training document, open it and start learning Algorithms, Data Structures for free.
This tutorial has been prepared for the beginners to help them understand basic Algorithms, Data Structures Programming. After completing this tutorial you will find yourself at a moderate level of expertise in Algorithms, Data Structures from where you can take yourself to next levels.
This tutorial is designed for Algorithms, Data Structures students who are completely unaware of Algorithms, Data Structures concepts but they have basic understanding on Programming training.
Tutorials in the same categorie :