Home
»
Programming
»
Programming for Computations - Python: A Gentle Introduction to Numerical Simulations with Python 3.6
Programming for Computations - Python: A Gentle Introduction to Numerical Simulations with Python 3.6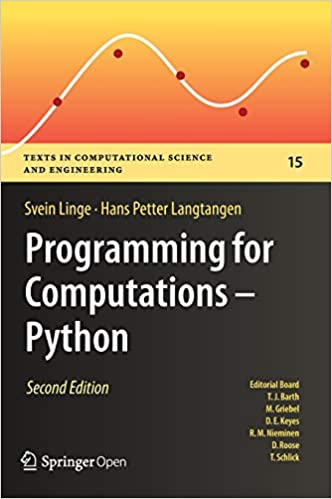 This second edition of the well-received book has been extensively revised: All code is now written in Python version 3.6 (no longer version 2.7). In addition, the two first chapters of the previous edition have been extended and split up into five new chapters, thus expanding the introduction to programming from 50 to 150 pages
This book presents computer programming as a key method for solving mathematical problems. There are two versions of the book, one for MATLAB and one for Python. The book was inspired by the Springer book TCSE 6: A Primer on Scientific Programming with Python (by Langtangen), but the style is more accessible and concise, in keeping with the needs of engineering students.
| | |
| --- | --- |
| Pages : | 355 pages |
| File type : | pdf |
| Downloads: | 59 |
| Submitted On: | 2020-08-30 |
| License: | CC BY-NC 4.0 and Open Access |
| Author(s): | Svein Linge (Author), Hans Petter Langtangen (Author) |
Take advantage of this course called Programming for Computations - Python: A Gentle Introduction to Numerical Simulations with Python 3.6 to improve your Programming skills and better understand Python.
This course is adapted to your level as well as all Python pdf courses to better enrich your knowledge.
All you need to do is download the training document, open it and start learning Python for free.
This tutorial has been prepared for the beginners to help them understand basic Python Programming. After completing this tutorial you will find yourself at a moderate level of expertise in Python from where you can take yourself to next levels.
This tutorial is designed for Python students who are completely unaware of Python concepts but they have basic understanding on Programming training.
Tutorials in the same categorie :