Ruby On Rails Programming Tutorial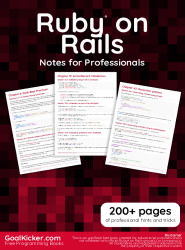 Download free Ruby On Rails tutorial course in PDF, training file in 73 chapters and 231 pages. Free unaffiliated ebook created from Stack OverFlow contributor.
Table of contents
About
Getting started with Ruby on Rails
Creating a Ruby on Rails Application
Create a new Rails app with your choice of database and including the RSpec Testing Tool
Generating A Controller
Installing Rails
Create a new Rails app with a non-standard database adapter
Creating Rails APIs in JSON
Generate a Resource with Sca?olds
Routing
Resource Routing (Basic)
Constraints
Scoping routes
Concerns
Root route
Split routes into multiple ?les
Additional RESTful actions
Member and Collection Routes
Mount another application
Nested Routes
Redirection
Redirects and Wildcard Routes
Scope available locales
URL params with a period
ActiveRecord
Creating a Model via generator
Introduction to Callbacks
Creating a Model manually
Manually Testing Your Models
Creating A Migration
Create a Join Table using Migrations
Using a model instance to update a row
Views
Structure
Partials
AssetTagHelper
Replace HTML code in Views
HAML - an alternative way to use in your views
ActiveRecord Migrations
Adding multiple columns to a table
Add a reference column to a table
Rollback migrations
Add a new column with an index
Run speci?c migration
Redo migrations
Add a new column to a table
Routing
Views
Rails Best Practices
ActionCable
User Authentication in Rails
ActiveRecord Validations
ActionMailer
Configuration
Using GoogleMaps with Rails
Caching
Configuration
Rails 5
Mongoid
Change default timezone
Upgrading Rails
Debugging
Rails logger
Rails API
ActiveSupport
ActiveRecord Transactions
Decorator pattern
React with Rails using react-rails gem
Multipurpose ActiveRecord columns
Shallow Routing
Rails 5 API Authetication
Active Jobs
Nested form in Ruby on Rails
Import whole CSV files from specific folder
ActiveJob
Rails Engine - Modular Rails
ActiveRecord Transactions
Turbolinks
Friendly ID
Securely storing authentication keys
Authenticate Api using Devise
Integrating React.js with Rails Using Hyperloop
Change a default Rails application enviornment
Rails -Engines
Adding an Amazon RDS to your rails application
Payment feature in rails
Rails on docker
Reserved Words
It is a free Ruby On Rails ebook created for beginners. The content is extracted from Stack Overflow pltaform, which is written by many Ruby On Rails developers and contributors.
The content is released under Creative Commons BY-SA
| | |
| --- | --- |
| Pages : | |
| File type : | pdf |
| Downloads: | 561 |
| Submitted On: | 2019-04-30 |
| License: | |
| Author(s): | |
Take advantage of this course called Ruby On Rails Programming Tutorial to improve your Programming skills and better understand Ruby On Rails.
This course is adapted to your level as well as all Ruby On Rails pdf courses to better enrich your knowledge.
All you need to do is download the training document, open it and start learning Ruby On Rails for free.
This tutorial has been prepared for the beginners to help them understand basic Ruby On Rails Programming. After completing this tutorial you will find yourself at a moderate level of expertise in Ruby On Rails from where you can take yourself to next levels.
This tutorial is designed for Ruby On Rails students who are completely unaware of Ruby On Rails concepts but they have basic understanding on Programming training.
Tutorials in the same categorie :