R Language tutorial, The Basic Maniuplation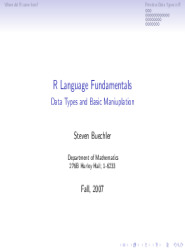 The purpose of this course is to provide a starting point for Interested in R language. It is useful For the beginner to assimilate certain notions and concepts in  order to improve their knowledge.
Free training document about R language designated to beginners.
Table of contents
Where did R come from?
Primitive Data Types in R
Overview
Atomic Vectors
Subsetting Vectors
Higher-order data types (slightly)
Programming with Data Began with S
S Becomes Software
R is Infinitely Expandable
Bioconductor is a Set of Packages
Fundamental Data Objects
Atomic Data Elements
Creating Vectors
Learning R Syntax
accessing attributes
Vector Names
Vector Arithmetic
Basic operations on numeric vectors
Generating regular sequences
Generating regular sequences
Logical Vectors
Logical Comparisons
Missing Values
Extracting Subsequences of a Vector
Subsetting with Positive Integral Sequences
Subsetting with Logical Vector
Subsetting by Names
Factors Represent Categorical Data
List Length and Components
List Subsetting Example
| | |
| --- | --- |
| Pages : | |
| File type : | pdf |
| Downloads: | 127 |
| Submitted On: | 2017-02-20 |
| License: | |
| Author(s): | |
Take advantage of this course called R Language tutorial, The Basic Maniuplation to improve your Programming skills and better understand language R.
This course is adapted to your level as well as all language R pdf courses to better enrich your knowledge.
All you need to do is download the training document, open it and start learning language R for free.
This tutorial has been prepared for the beginners to help them understand basic language R Programming. After completing this tutorial you will find yourself at a moderate level of expertise in language R from where you can take yourself to next levels.
This tutorial is designed for language R students who are completely unaware of language R concepts but they have basic understanding on Programming training.
Tutorials in the same categorie :