C programming tutorial for professionals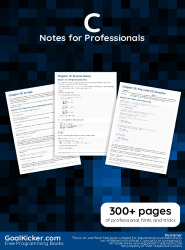 Download free C language tutorial course in PDF, training file in 63 chapters and 342 pages. Free unaffiliated ebook created from Stack OverFlow contributor.
Table of contents
About
Getting started with C Language
Hello World
Original "Hello, World!" in K&R C
Comments
Commenting using the preprocessor
/* */ delimited comments
// delimited comments
Possible pitfall due to trigraphs
Data Types
Interpreting Declarations
Fixed Width Integer Types (since C99)
Integer types and constants
Floating Point Constants
String Literals
Operators
Relational Operators
Conditional Operator/Ternary Operator
Bitwise Operators
Short circuit behavior of logical operators
Comma Operator
Arithmetic Operators
Access Operators
sizeof Operator
Cast Operator
Function Call Operator
Increment / Decrement
Assignment Operators
Logical Operators
Pointer Arithmetic
_Alignof
Boolean
Using stdboolh
Using #de?ne
Using the Intrinsic (built-in) Type _Bool
Integers and pointers in Boolean expressions
De?ning a bool type using typedef
Strings
Tokenisation: strtok(), strtok_r() and strtok_s()
String literals
Calculate the Length: strlen()
Basic introduction to strings
Copying strings
Iterating Over the Characters in a String
Creating Arrays of Strings
Convert Strings to Number: atoi(), atof() (dangerous, don't use them)
string formatted data read/write
Comments
Operators
Strings
Compound Literals
Arrays
Enumerations
Standard Math
Selection Statements
Declaration vs Definition
Files and I/O streams
Pointers
Function Pointers
Pass 2D-arrays to functions
Undefined behavior
Preprocessor and Macros
Variable arguments
Generic selection
Aliasing and effective type
Inline assembly
Implicit and Explicit Conversions
Typedef
Declarations
Memory management
Atomics
Create and include header files
Side Effects
Constraints
Unions
Multithreading
Testing frameworks
Common C programming idioms and developer practices
Common pitfalls
It is a free C language ebook created for beginners. The content is extracted from Stack Overflow pltaform, which is written by many C language developers and contributors.
The content is released under Creative Commons BY-SA
| | |
| --- | --- |
| Pages : | |
| File type : | pdf |
| Downloads: | 233 |
| Submitted On: | 2019-04-30 |
| License: | |
| Author(s): | |
Take advantage of this course called C programming tutorial for professionals to improve your Programming skills and better understand C language.
This course is adapted to your level as well as all C language pdf courses to better enrich your knowledge.
All you need to do is download the training document, open it and start learning C language for free.
This tutorial has been prepared for the beginners to help them understand basic C language Programming. After completing this tutorial you will find yourself at a moderate level of expertise in C language from where you can take yourself to next levels.
This tutorial is designed for C language students who are completely unaware of C language concepts but they have basic understanding on Programming training.
Tutorials in the same categorie :