Spring MVC by example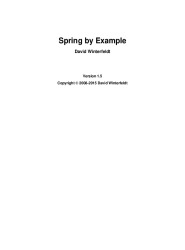 Download free pdf training course in pdf about Spring MVC under 315 pages intended to beginners.
This tutorial will first introduce you to the core concepts behind Spring and how Spring will make your life easier. Spring is built around some relatively new concepts in Java programming. After the introduction, each article will be based on a working example available from the Spring by Example GitHub repository.
Table of contents
Spring: Evolution Over Intelligent Design
A Little History
A Note about Format
Spring Introduction
Spring In Context: Core Concepts
Spring and Inversion of Control
Dependency Inversion: Precursor to Dependency Injection
Dependency Injection To The Rescue
Bean management through IoC
Our Example In Spring IoC
Practical Introduction to Inversion of Control
Basic Bean Creation
Basic Constructor Injection
Basic Setter Injection
Reference Injection
Creating a Spring Application
Unit Test Beans from Application Context
Getting Started
Project Information
AspectJ Load-time Weaving in Spring
JVM Argument
Spring Configuration
AspectJ Configuration
Code Example
Reference
Related Links
Project Setup
Project Information
Persistence
Simple Spring JDBC Template
Spring Configuration
Code Example
Reference
Related Links
Simple Hibernate XML Configuration
Spring Configuration
Hibernate Configuration
SQL Script
| | |
| --- | --- |
| Pages : | |
| File type : | pdf |
| Downloads: | 1203 |
| Submitted On: | 2016-06-30 |
| License: | |
| Author(s): | |
Take advantage of this course called Spring MVC by example to improve your Programming skills and better understand Spring.
This course is adapted to your level as well as all Spring pdf courses to better enrich your knowledge.
All you need to do is download the training document, open it and start learning Spring for free.
This tutorial has been prepared for the beginners to help them understand basic Spring Programming. After completing this tutorial you will find yourself at a moderate level of expertise in Spring from where you can take yourself to next levels.
This tutorial is designed for Spring students who are completely unaware of Spring concepts but they have basic understanding on Programming training.
Tutorials in the same categorie :