Spring Framework Notes for Professionals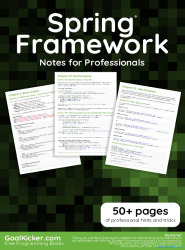 Download free course Spring Framework Notes for Professionals, pdf file on 67 pages by Stack Overflow Community.
The Spring Framework Notes for Professionals book is compiled from Stack Overflow Documentation, the content is written by the beautiful people at Stack Overflow.
Table of contents
Getting started with Spring Framework

Spring Core

Spring Expression Language (SpEL)

Obtaining a SqlRowSet from SimpleJdbcCall

Creating and using beans

Bean scopes

Conditional bean registration in Spring

Spring JSR 303 Bean Validation

ApplicationContext Configuration

RestTemplate

Task Execution and Scheduling

Spring Lazy Initialization

Property Source

Dependency Injection (DI) and Inversion of Control (IoC)

JdbcTemplate

SOAP WS Consumption

Spring profile

Understanding the dispatcher-servlet.xml
| | |
| --- | --- |
| Pages : | 67 |
| File type : | PDF |
| Downloads: | 6 |
| Submitted On: | 2022-02-03 |
| License: | CC BY-SA |
| Author(s): | Stack Overflow Community |
Take advantage of this course called Spring Framework Notes for Professionals to improve your Computer architecture skills and better understand Spring networking.
This course is adapted to your level as well as all Spring networking pdf courses to better enrich your knowledge.
All you need to do is download the training document, open it and start learning Spring networking for free.
This tutorial has been prepared for the beginners to help them understand basic Spring networking Computer architecture. After completing this tutorial you will find yourself at a moderate level of expertise in Spring networking from where you can take yourself to next levels.
This tutorial is designed for Spring networking students who are completely unaware of Spring networking concepts but they have basic understanding on Computer architecture training.
Tutorials in the same categorie :