Motherboard Study Guide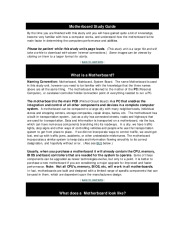 After reading this training document about Motherboard computer, you will become very familiar with how a computer works, and understand how the motherboard is the main factor in determining the computers performance and abilities.
The motherboard is an electronic board enabling all printed circuits of a computer to be interconnected. It is the largest card in the computer that will centralize all the data and have it processed by the processor
The motherboard is the main component of the CPU. The role of the motherboard is to centralize and process the data exchanged in a computer using the processor, which is fixed on it. The motherboard thus manages the hard disk, a disk, keyboard and mouse, network, USB ports ...
Table of contents
What is a Motherboard?
What does a Motherboard look like?
Motherboard Differences
Motherboard Components
ROM BIOS
CMOS RAM
CMOS & RTC Battery
Plug & Play Motherboards
RAM
BUS
Adapter slots and types
BUS Slot Images
CPU & Socket
Onboard CACHE RAM
Jumpers & Pins
Keyboard Controller
Super I/O Controller
Internal Connectors
External Connectors
Serial port connectors
Parallel port connectors
Keyboard connector
Mouse connector
Video Display connector 
Game / Midi Port connector 
Power connector 
Firewire connectors 
Telephone and Network connectors 
USB connectors
Connector Images
| | |
| --- | --- |
| Pages : | |
| File type : | pdf |
| Downloads: | 1272 |
| Submitted On: | 2017-01-02 |
| License: | |
| Author(s): | |
Take advantage of this course called Motherboard Study Guide to improve your Computer architecture skills and better understand Motherboard.
This course is adapted to your level as well as all Motherboard pdf courses to better enrich your knowledge.
All you need to do is download the training document, open it and start learning Motherboard for free.
This tutorial has been prepared for the beginners to help them understand basic Motherboard Computer architecture. After completing this tutorial you will find yourself at a moderate level of expertise in Motherboard from where you can take yourself to next levels.
This tutorial is designed for Motherboard students who are completely unaware of Motherboard concepts but they have basic understanding on Computer architecture training.
Tutorials in the same categorie :