Computer basics PDF tutorial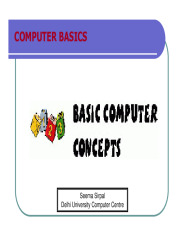 Description :
A computer is a machine that makes it possible to work with information (numbers, words, images, sounds) called data.
Computers can process large quantities of data, store them and display them.
The first computer was invented in the 1830s by a British inventor, Charles Babbage.
In 1971 appeared the first microcomputer.
Table of contents
What is a Computer?
Hardware & Software
Types of Computers
Mini and Mainframe Computers
Personal Computers
Hardware Components
Input Devices
Output Devices
Hardware Components
The Mouse
The Keyboard
Tracker Balls
Scanners
TouchPads
Light Pens
Joysticks
VDU
Printers
Plotters
Speakers
Speech synthesisers
Main Parts of Computer
RAM - Random Access Memory
ROM – Read Only Memory
How Computer Memory Is Measured
Microprocessors
CPU (Central Processing Unit)
Some of the Factors
That Impact on a Computer's Performance
CPU speed
RAM size
Hard disk speed and capacity
Software Component
Operating systems software
Word processing applications
Database
Presentation tools
Multimedia applications
Information Network
LAN
WAN
Uses of network
Computer Accessories
Computers in Education
Computers in Daily Life
Programs and data are permanently stored on storage. Most computers are equipped with a hard disk that stores data on a metal disc, into the computer. In some storage devices (CDs, DVDs), the data are placed on disks that can be switched from one machine to another.
These media facilitate data sharing.
| | |
| --- | --- |
| File Size : | 562.86 Kb |
| Downloads : | 3868 |
| Submitted On: | 2017-10-09 |
Take advantage of this course called Computer basics PDF tutorial to improve your Computer architecture skills and better understand Computer.
This course is adapted to your level as well as all Computer pdf courses to better enrich your knowledge.
All you need to do is download the training document, open it and start learning Computer for free.
This tutorial has been prepared for the beginners to help them understand basic Computer Computer architecture. After completing this tutorial you will find yourself at a moderate level of expertise in Computer from where you can take yourself to next levels.
This tutorial is designed for Computer students who are completely unaware of Computer concepts but they have basic understanding on Computer architecture training.
We'll walk you through everything you need to know to build your own PC. This is a free Building PC PDF tutorial in 19 chapters and 26 pages.
---
Download free pdf tutorial about ROM, EPROM, and EEPROM, training course intended to beginners.
---
---
Download Basic Computer Hardware Tutorial, training document in pdf intended to beginners.
---
Download free course material and training Computer basics on 17 pages intended to beginners.
---
This book aims to give students an overview about basic computer science, it designed for novice computer users.
---
You are here:  

Home

/

Computer basics PDF tutorial