Entity Framework Core Succinctly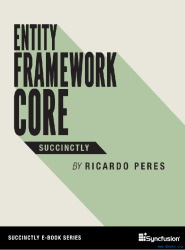 Download free course Entity Framework Core Succinctly, pdf file on 111 pages by Ricardo Peres.
Entity Framework is Microsoft's flagship Object/Relation Mapper, and the recommended way to access relational databases. Entity Framework Core is a complete rewrite from the "classic" Entity Framework, building on the new multiplatform .NET Core framework and adding the ability to connect to nonrelational data sources while keeping the features that made Entity Framework Code First so popular. In Entity Framework Core Succinctly, join Ricardo Peres to explore this new version of the O/RM, from getting set up to avoiding common traps.
Table of contents
Setting Up

Database

Getting Data from the Database

Writing Data to the Database

Logging

Performance Optimizations

Common Pitfalls
| | |
| --- | --- |
| Pages : | 111 |
| File type : | PDF |
| Downloads: | 2 |
| Submitted On: | 2022-02-02 |
| License: | For personal or educational use |
| Author(s): | Ricardo Peres |
Take advantage of this course called Entity Framework Core Succinctly to improve your Computer architecture skills and better understand ram.
This course is adapted to your level as well as all ram pdf courses to better enrich your knowledge.
All you need to do is download the training document, open it and start learning ram for free.
This tutorial has been prepared for the beginners to help them understand basic ram Computer architecture. After completing this tutorial you will find yourself at a moderate level of expertise in ram from where you can take yourself to next levels.
This tutorial is designed for ram students who are completely unaware of ram concepts but they have basic understanding on Computer architecture training.
Tutorials in the same categorie :