Computer Vision Metrics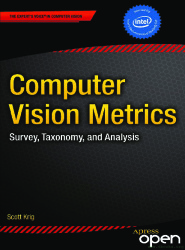 Download free course Computer Vision Metrics, pdf file on 498 pages by Scott Krig.
Computer Vision Metrics provides an extensive survey and analysis of over 100 current and historical feature description and machine vision methods, with a detailed taxonomy for local, regional and global features. This book provides necessary background to develop intuition about why interest point detectors and feature descriptors actually work, how they are designed, with observations about tuning the methods for achieving robustness and invariance targets for specific applications. The survey is broader than it is deep, with over 540 references provided to dig deeper. The taxonomy includes search methods, spectra components, descriptor representation, shape, distance functions, accuracy, efficiency, robustness and invariance attributes, and more. Rather than providing 'how-to' source code examples and shortcuts, this book provides a counterpoint discussion to the many fine opencv community source code resources available for hands-on practitioners.
Table of contents
Image Capture and Representation

Image Pre-Processing

Global and Regional Features

Local Feature Design Concepts, Classification, and Learning

Taxonomy of Feature Description Attributes

Interest Point Detector and Feature Descriptor Survey

Ground Truth Data, Content, Metrics, and Analysis

Vision Pipelines and Optimizations

Synthetic Feature Analysis

Survey of Ground Truth Datasets

Imaging and Computer Vision Resources

Extended SDM Metrics
| | |
| --- | --- |
| Pages : | 498 |
| File type : | PDF |
| Downloads: | 10 |
| Submitted On: | 2022-02-01 |
| License: | CC BY-NC-ND |
| Author(s): | Scott Krig |
Take advantage of this course called Computer Vision Metrics to improve your Computer architecture skills and better understand computer.
This course is adapted to your level as well as all computer pdf courses to better enrich your knowledge.
All you need to do is download the training document, open it and start learning computer for free.
This tutorial has been prepared for the beginners to help them understand basic computer Computer architecture. After completing this tutorial you will find yourself at a moderate level of expertise in computer from where you can take yourself to next levels.
This tutorial is designed for computer students who are completely unaware of computer concepts but they have basic understanding on Computer architecture training.
Tutorials in the same categorie :