J2EE for NetBeans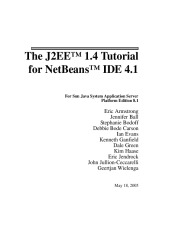 Download free Java J2EE for NetBeans course material, tutorial training, a PDF file on 330 pages
Table of Content
J2EE Components
J2EE Clients
Web Components
Business Components
J2EE Containers
Web Services Support
SOAP Transport Protocol
WSDL Standard Format
J2EE API
Enterprise JavaBeans Technology
Java Servlet Technology
JavaServer Pages Technology
Java Message Service API
Java Transaction API
JavaBeans Activation Framework
Debugging J2EE Applications
Building Web Services with JAX-RPC
Generating and Coding the Service
Building the Service
Deploying the Service
Other Enterprise Bean Features
Handling Exceptions
Creating the Sample Database
Mapping Table Relationships
Creating the Database Tables
Refactoring Entity Bean Methods 
| | |
| --- | --- |
| Pages : | |
| File type : | pdf |
| Downloads: | 594 |
| Submitted On: | 2015-11-23 |
| License: | |
| Author(s): | |
Take advantage of this course called J2EE for NetBeans to improve your Programming skills and better understand J2EE.
This course is adapted to your level as well as all J2EE pdf courses to better enrich your knowledge.
All you need to do is download the training document, open it and start learning J2EE for free.
This tutorial has been prepared for the beginners to help them understand basic J2EE Programming. After completing this tutorial you will find yourself at a moderate level of expertise in J2EE from where you can take yourself to next levels.
This tutorial is designed for J2EE students who are completely unaware of J2EE concepts but they have basic understanding on Programming training.
Tutorials in the same categorie :