Advanced Word 2013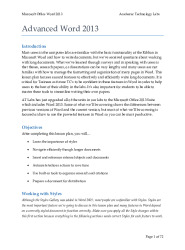 With this PDF tutorial you will be familiar with the basic functionality of Microsoft Word 2013 and you will learn how to write document with ease.
You will also see how to create a form, create a mailing, work with other Office applications work together on the same document with the Track Changes and comments, customize the interface, manage users and create macro commands.
This training course material of Microsoft Word 2013 explains in detail how to format the text by applying highlighted character (visual effects and OpenType features), the formatted paragraph and page. For best formatting, you learn how to apply a theme to the document, to create styles and templates
You will go further in the text management by exploiting the search and replace functions, using the spell checker, and translation function.
Table of contents
Microsoft Word
Introduction
Objectives
Working with Styles
Using the Style Gallery
Creating, Editing, and Deleting Styles
Creating and Using Style Sets
Navigating through Long Documents
Inserting Page Numbers
Using the Navigation Pane and Thumbnails
Using the Outline view
Collapsing Sections
Inserting Objects and Images
Inserting, Cropping, and Formatting Images
Embedding and Linking External Files
Embedding Excel Spreadsheets
Embedding PowerPoint Presentations
Using Hyperlinks and Bookmarks
Inserting and Editing Hyperlinks
Inserting and Editing Bookmarks
Creating and Using a Macro
Generating a Table of Contents and Index
Using Styles to Generate a Table of Contents
Creating an Index with Keywords
References and Citations
Managing References with the Source Manager
Creating a Works Cited or Bibliography Page
Preparing a Document for Distribution
Password Protection and Encryption
| | |
| --- | --- |
| Pages : | |
| File type : | pdf |
| Downloads: | 1818 |
| Submitted On: | 2016-06-12 |
| License: | |
| Author(s): | |
Take advantage of this course called Advanced Word 2013 to improve your Office skills and better understand Word 2013.
This course is adapted to your level as well as all Word 2013 pdf courses to better enrich your knowledge.
All you need to do is download the training document, open it and start learning Word 2013 for free.
This tutorial has been prepared for the beginners to help them understand basic Word 2013 Office. After completing this tutorial you will find yourself at a moderate level of expertise in Word 2013 from where you can take yourself to next levels.
This tutorial is designed for Word 2013 students who are completely unaware of Word 2013 concepts but they have basic understanding on Office training.
Tutorials in the same categorie :