Adobe Photoshop CS6 Help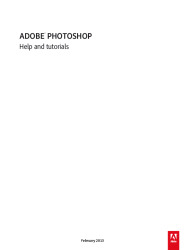 This manual provides a complet tutorial about Adobe Photoshop CS6 .Download free course material and training document in PDF under 757 pages.
Essential Photoshop tutorials and learning resources for getting started and new features.
Table of contents
What's new in Photoshop CS6
New video features in CS6
Key shortcuts for new CS6 feature
Getting started with Photoshop CS6
Workspace basics
Panels and menus
Specifying columns for an image
Customizing keyboard shortcuts
Image and color basic
Creating, opening, and importing images
Convert an image to Bitmap mod
Color mode
Layers
Combining multiple images into a group portrait
Aligning laye
Applying a Smart Filter
Blending modes
Layer effects and styles
Selecting a color range in an image
Image adjustments
Adjust shadow and highlight detail
Targeting images for press
Repair and restoration
Warp images shapes and paths
Drawing and painting
Video and animation
Filters and effects
Saving and exporting
3D and technical imaging
Color Management
| | |
| --- | --- |
| Pages : | |
| File type : | pdf |
| Downloads: | 1558 |
| Submitted On: | 2016-04-08 |
| License: | |
| Author(s): | |
Take advantage of this course called Adobe Photoshop CS6 Help to improve your Others skills and better understand photoshop.
This course is adapted to your level as well as all photoshop pdf courses to better enrich your knowledge.
All you need to do is download the training document, open it and start learning photoshop for free.
This tutorial has been prepared for the beginners to help them understand basic photoshop Others. After completing this tutorial you will find yourself at a moderate level of expertise in photoshop from where you can take yourself to next levels.
This tutorial is designed for photoshop students who are completely unaware of photoshop concepts but they have basic understanding on Others training.
Tutorials in the same categorie :