Photoshop CS5 : Scripting guide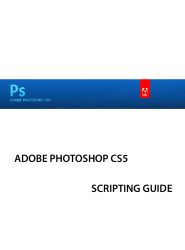 Download free Scripting Adobe Photoshop tutorial in PDF  , a complete guide under 87 p&ges designated to intermediate level-users to learn the basics of Photoshop object model and how to execute scripts. 
Table of contents
Introduction
Photoshop Scripting Basics
Scripting Overview
Scripting Support in Photoshop
Startup scripts
Executing JavaScripts from AS or VBS
Photoshop Object Model
Layer classes
Path Item, Sub Path Item, and Path Point classes
Color Sampler class
The containment hierarchy and the Photoshop user interface
Additional objects
Creating a sample Hello World script
Creating and running an AppleScript
Creating and running a VBScript 
Creating and running a JavaScript
Scripting Photoshop
Viewing Photoshop Objects, Commands, and Methods
Adobe Photoshop CS5 AppleScript Scripting Reference
Adobe Photoshop CS5 Visual Basic Scripting Reference
Adobe Photoshop CS5 JavaScript Scripting Reference
Viewing Photoshop's AppleScript dictionary
Creating New Objects in a Script
Setting the Active Object
Setting the active document
Setting the active layer
Setting the active channels
Specifying file formats to open
Allowing or Preventing Dialogs
Working with the Photoshop Object Model
Using the Application object
Global Photoshop settings or preferences
Save the existing ruler unit preferences
Open an existing file as a document
Change the size of the image
Creating an ArtLayer object
Applying styles to layers
Using the PathItem object
Working with color objects
Working with Filters
Understanding Clipboard Interaction
Using ScriptListener to find event IDs
| | |
| --- | --- |
| Pages : | |
| File type : | pdf |
| Downloads: | 1155 |
| Submitted On: | 2016-04-08 |
| License: | |
| Author(s): | |
Take advantage of this course called Photoshop CS5 : Scripting guide to improve your Others skills and better understand photoshop.
This course is adapted to your level as well as all photoshop pdf courses to better enrich your knowledge.
All you need to do is download the training document, open it and start learning photoshop for free.
This tutorial has been prepared for the beginners to help them understand basic photoshop Others. After completing this tutorial you will find yourself at a moderate level of expertise in photoshop from where you can take yourself to next levels.
This tutorial is designed for photoshop students who are completely unaware of photoshop concepts but they have basic understanding on Others training.
Tutorials in the same categorie :