Beginners guide to Adobe Photoshop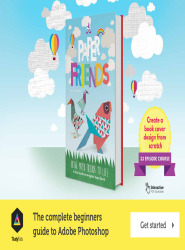 Photoshop is a professional image processing software to make photo editing, drawing (digital painting), graphic design or Web design. It is used in many areas: advertising agencies, photographers, graphic designers, film or individuals.
Photoshop is published by Adobe and is part of a software bundle: Creative Suite.
While it may seem difficult to use by a beginner, it is not so. In this course, we will see how to use Photshop going around important features to understand the logic of this powerful tool.
Welcome to the complete beginners guide to Adobe Photoshop.It's a free PDF file under 44 pages by TastyTuts.
We are going to explore a design scenario and produce cover artwork for a children's book
After reading this tutorial you will be able to create your very own artwork in Photoshop ready for print and digital use.
Complete beginners guide to Adobe Photoshop
Course index
Introduction
Interface introduction
Raster images
Layers
Common files types
Colours
Essential practice
Making selection
Copy and Past
BrushesHow to create
How to creat a workspace
Shape tool
Layers style
Smart objects
Create a project
Texture
Paper type
Download the project folder
What we will be creating on this course
Useful shorcut keys to know
Essential training
Working with Typography
Using Photoshop effects
Managing a complex workflow
Managing the project in a smart way
Photoshop short cut keys
Adding type to the design
Save for web in Adobe Photoshop
| | |
| --- | --- |
| Pages : | |
| File type : | pdf |
| Downloads: | 4759 |
| Submitted On: | 2016-06-13 |
| License: | |
| Author(s): | |
Take advantage of this course called Beginners guide to Adobe Photoshop to improve your Others skills and better understand photoshop.
This course is adapted to your level as well as all photoshop pdf courses to better enrich your knowledge.
All you need to do is download the training document, open it and start learning photoshop for free.
This tutorial has been prepared for the beginners to help them understand basic photoshop Others. After completing this tutorial you will find yourself at a moderate level of expertise in photoshop from where you can take yourself to next levels.
This tutorial is designed for photoshop students who are completely unaware of photoshop concepts but they have basic understanding on Others training.
Tutorials in the same categorie :