Kotlin Notes for Professionals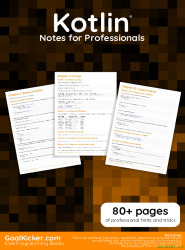 Download free course Kotlin Notes for Professionals, pdf file on 93 pages by Stack Overflow Community.
The Kotlin Notes for Professionals book is compiled from Stack Overflow Documentation, the content is written by the beautiful people at Stack Overflow.
Table of contents
Getting started with Kotlin

Basics of Kotlin

Strings

Arrays

Collections

Enum

Functions

Vararg Parameters in Functions

Conditional Statements

Loops in Kotlin

Ranges

Regex

Basic Lambdas

Null Safety

Class Delegation

Class Inheritance

Visibility Modifiers

Generics

Interfaces

Singleton objects

coroutines

Annotations

Type aliases

Type-Safe Builders

Delegated properties

Re\xEF\xAC\x82ection

Extension Methods

DSL Building

Idioms

RecyclerView in Kotlin

logging in kotlin

Exceptions

JUnit

Kotlin Android Extensions

Kotlin for Java Developers

Java 8 Stream Equivalents

Kotlin Caveats

Configuring Kotlin build
| | |
| --- | --- |
| Pages : | 93 |
| File type : | PDF |
| Downloads: | 9 |
| Submitted On: | 2022-02-03 |
| License: | CC BY-SA |
| Author(s): | Stack Overflow Community |
Take advantage of this course called Kotlin Notes for Professionals to improve your Others skills and better understand Computer science.
This course is adapted to your level as well as all Computer science pdf courses to better enrich your knowledge.
All you need to do is download the training document, open it and start learning Computer science for free.
This tutorial has been prepared for the beginners to help them understand basic Computer science Others. After completing this tutorial you will find yourself at a moderate level of expertise in Computer science from where you can take yourself to next levels.
This tutorial is designed for Computer science students who are completely unaware of Computer science concepts but they have basic understanding on Others training.
Tutorials in the same categorie :