Practical Data Analysis

Plenty of small businesses face big amounts of data but lack the internal skills to support quantitative analysis. Understanding how to harness the power of data analysis using the latest open source technology can lead them to providing better customer service, the visualization of customer needs, or even the ability to obtain fresh insights about the performance of previous products. Practical Data Analysis is a book ideal for home and small business users who want to slice and dice the data they have on hand with minimum hassle. Practical Data Analysis is a hands-on guide to understanding the nature of your data and turn it into insight. It will introduce you to the use of machine learning techniques, social networks analytics, and econometrics to help your clients get insights about the pool of data they have at hand. Performing data preparation and processing over several kinds of data such as text, images, graphs, documents, and time series will also be covered. Practical Data Analysis presents a detailed exploration of the current work in data analysis through self-contained projects. First you will explore the basics of data preparation and transformation through OpenRefine. Then you will get started with exploratory data analysis using the D3js visualization framework. You will also be introduced to some of the machine learning techniques such as, classification, regression, and clusterization through practical projects such as spam classification, predicting gold prices, and finding clusters in your Facebook friends network. You will learn how to solve problems in text classification, simulation, time series forecast, social media, and MapReduce through detailed projects. Finally you will work with large amounts of Twitter data using MapReduce to perform a sentiment analysis implemented in Python and MongoDB. Practical Data Analysis contains a combination of carefully selected algorithms and data scrubbing that enables you to turn your data into insight.
Download free tutorial in PDF (360 pages) created by Hector Cuesta .
| | |
| --- | --- |
| Pages : | 360 |
| Size : | |
| File type : | PDF |
| Downloads: | 85 |
| Created: | 2021-05-15 |
| License: | Free |
| Author(s): | Hector Cuesta |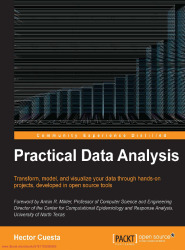 Others Data Analysis Tutorials
Others related eBooks about Practical Data Analysis
Learning Go
Download free course Learning Go, pdf file on 305 pages by Stack Overflow Community....
30 Arduino projects guide
Download a complet Arduino tutorial in PDF ,with this training document you will learn the basics of Arduino and how to connect all manner of electronics to your computer to create projects....
Overview of Machine Learning
This document is an overview of machine learning created by Zaid Harchaoui, PDF training manual in 45 pages intended to hight students level....
Contribute to Opensource
Download free course Contribute to Opensource, pdf file on 100 pages by Daniele Scasciafratte....
Integration and Automation of Manufacturing Systems
This book has evolved from supplemental materials used by the author in teaching laboratory based integrated manufacturing courses since 1993. It is designed to focus on topics relevant to the modern manufacturer, while avoiding topics that are more research oriented. This allows the chapters to f...
Computing Fundamentals: The Theory and Practice of Software Design with BlackBox Component Builder
...
Think OCaml
Download free course Think OCaml, pdf file on 142 pages by Allen Downey, Nicholas Monje....
Machine Learning: The Complete Guide
Machine learning is one of the fastest growing areas of computer science, with far-reaching applications. The aim of this textbook is to introduce machine learning, and the algorithmic paradigms it offers, in a principled way. The book provides an extensive theoretical account of the fundamental ide...
Cryptography and Network security
Download Cryptography and network security PDF tutorial by Chandraskhar Rao intended to Bachelor of Technology in Computer Science and Engineering....
The Elements of Data Analytic Style
Download free course The Elements of Data Analytic Style, pdf file on 98 pages by Jeff Leek....