Voice over IP overview in pdf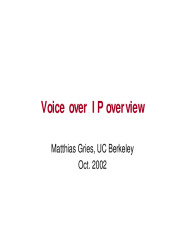 Download free training tutorial in pdf about VoIP (Voice over IP),document in 46 pages designated to intermediate level-users.
Internet telephony is the transmission of voice over the public Internet network.
Voice over IP (VoIP) is the transmission of voice using the IP protocol.
The medium used may be the public Internet network or a private network.
VoIP will be studied in comparison to conventional telephony.
VoIP is based on packet switching with the use of IP network.
Conventional telephony uses circuit-based switching based on the RTCP network
Table of contents
Why use VoIP?
Introduction of new services
VoIP application scenarios
Elements of a VoIP network
ITU-T H.323
H.323 protocol stack
H.323 call phases
Optimization goals and constraints
IETF activities
Available tools/libraries and products
VoIP platforms
Implications on a CSA for VoIP
Packet delay vs. network utilization
| | |
| --- | --- |
| Pages : | |
| File type : | pdf |
| Downloads: | 472 |
| Submitted On: | 2016-12-25 |
| License: | |
| Author(s): | |
Take advantage of this course called Voice over IP overview in pdf to improve your Networking skills and better understand VoIP.
This course is adapted to your level as well as all VoIP pdf courses to better enrich your knowledge.
All you need to do is download the training document, open it and start learning VoIP for free.
This tutorial has been prepared for the beginners to help them understand basic VoIP Networking. After completing this tutorial you will find yourself at a moderate level of expertise in VoIP from where you can take yourself to next levels.
This tutorial is designed for VoIP students who are completely unaware of VoIP concepts but they have basic understanding on Networking training.
Tutorials in the same categorie :