Full Listing of Port Numbers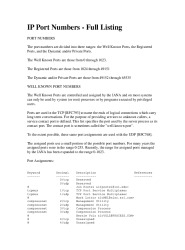 You will find in this document a complete list of TCP and UDP ports with their descriptions, free pdf file in 13 pages for downloading.
Definition
The TCP and UDP port numbers are coded on 16 bits delimiting their values between 0 and 65535. The known ports have the particularity of being assigned by the Iana. They are, in most part of the operating system, used by processes in root mode, admin mode or even with advanced user rights. You will find the working details of the ports with Tcp and Udp in RFC 793 and RFC 768. The list is divided into three parts named:
Known ports, from 0 to 1023
Registered ports, between 1024 and 49151
Dynamic or private ports, between 49152 and 65535.
| | |
| --- | --- |
| Pages : | |
| File type : | pdf |
| Downloads: | 748 |
| Submitted On: | 2019-05-03 |
| License: | |
| Author(s): | |
Take advantage of this course called Full Listing of Port Numbers to improve your Networking skills and better understand Ports.
This course is adapted to your level as well as all Ports pdf courses to better enrich your knowledge.
All you need to do is download the training document, open it and start learning Ports for free.
This tutorial has been prepared for the beginners to help them understand basic Ports Networking. After completing this tutorial you will find yourself at a moderate level of expertise in Ports from where you can take yourself to next levels.
This tutorial is designed for Ports students who are completely unaware of Ports concepts but they have basic understanding on Networking training.
Tutorials in the same categorie :