VoIP Tutorial in PDF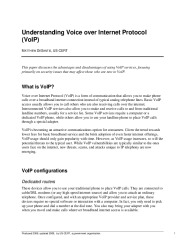 This pdf tutorial discusses the advantages and disadvantages of using VoIP services, focusing primarily on security issues that may affect those who are new to VoIP. 
Voice over IP (Voice over IP) is an emerging voice communication technology. It is part of a turning point in the world of communication. Indeed, the convergence of triple play (voice, data and video) is one of the main challenges for telecommunication players today.
More recently the Internet has expanded partially in the Intranet of each organization, seeing the total traffic based on an IP packet network transport surpassing the traditional voice network (circuit switched network) traffic.
It became clear that in the wake of this technological advance, operators, companies or organizations and suppliers had to introduce new voice and video services in order to benefit from the advantage of single IP transport. It was in 1996 the birth of the first VoIP version called H323.
Originating from the European standardization organization ITU-T based on ISDN voice signaling (Q931), this standard has now followed many developments, some new standards taking other technological orientations.
Table of contents
Introduction
What is VoIP? 
VoIP configurations
Dedicated VoIP phones 
Requirements, Availability, and Service Limitations 
Availability due to power outages
Threats / Risks 
Spam over internet telephony (SPIT) 
Spoofing 
Confidentiality concerns
How to Protect Against Risks 
 Extrait de cours
Voice over Internet Protocol (VoIP) is a form of communication that allows you to make phone calls over a broadband internet connection instead of typical analog telephone lines. Basic VoIP access usually allows you to call others who are also receiving calls over the internet.
Interconnected VoIP services also allow you to make and receive calls to and from traditional landline numbers, usually for a service fee. Some VoIP services require a computer or a dedicated VoIP phone, while others allow you to use your landline phone to place VoIP calls through a special adapter
| | |
| --- | --- |
| Pages : | |
| File type : | pdf |
| Downloads: | 437 |
| Submitted On: | 2016-12-25 |
| License: | |
| Author(s): | |
Take advantage of this course called VoIP Tutorial in PDF to improve your Networking skills and better understand VoIP.
This course is adapted to your level as well as all VoIP pdf courses to better enrich your knowledge.
All you need to do is download the training document, open it and start learning VoIP for free.
This tutorial has been prepared for the beginners to help them understand basic VoIP Networking. After completing this tutorial you will find yourself at a moderate level of expertise in VoIP from where you can take yourself to next levels.
This tutorial is designed for VoIP students who are completely unaware of VoIP concepts but they have basic understanding on Networking training.
Tutorials in the same categorie :