Introduction to ASP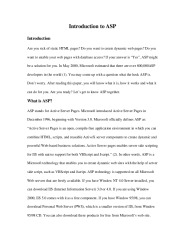 Description :
With this tutorial you will learn how to create dynamic web pages with ASP ,a brief introduction in PDF under 8 pages designated to beginners.
Table of contents
Introduction
What is ASP?
What is an ASP file?
Difference between an HTML file and an ASP file
write an ASP script
HTML process and ASP process
How does it work?
How to make it work?
What are its advantages?
Conclusion
Reference
| | |
| --- | --- |
| File Size : | 20.36 Kb |
| Downloads : | 356 |
| Submitted On: | 2015-11-20 |
Take advantage of this course called Introduction to ASP to improve your Web development skills and better understand asp.
This course is adapted to your level as well as all asp pdf courses to better enrich your knowledge.
All you need to do is download the training document, open it and start learning asp for free.
This tutorial has been prepared for the beginners to help them understand basic asp Web development. After completing this tutorial you will find yourself at a moderate level of expertise in asp from where you can take yourself to next levels.
This tutorial is designed for asp students who are completely unaware of asp concepts but they have basic understanding on Web development training.
Download free Vue.js tutorial course in PDF, training file in 26 chapters and 93 pages. Free unaffiliated ebook created from Stack OverFlow contributor.
---
Download complet course on CSS style sheets, PDF document on 327 pages for beginners. Training document created by StackOverFlow to get started with CSS.
---
This course provides an overview of AngularJS framework, a good PDF tutorial on 26 pages intended to intermediate level-users.
---
Download a free Raspberry Pi PDF tutorial in 11 chapters and 18 pages. This course aims to give users the basics concepts of Raspberry Pi zero from installing Raspbian to building a Raspberry Pi iBeacon.
---
This tutorial shows you the basics of ASP dot NET programming ,free training document for download designated to intermediate level users.
---
This is a free Raspberry PI PDF tutorial in 22 chapters and 21 pages. This document aims to give students 20 awesome projects that you can use Raspberry PI.
---
You are here:  

Home

/

Introduction to ASP