A Programmer's guide to C# 5.0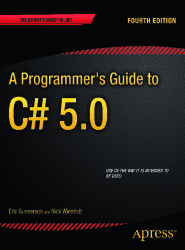 Download a free Csharp training document in PDF .This pdf tutorial is for software developers who want to understand the basics of C# programming. 
They will learn the object-oriented programming concepts .
Table of contents
Introduction
Chapter 1: The .NET Runtime
Chapter 1: C# and Libraries
Chapter 2: C# QuickStart
Chapter 5: Exception Handling
Chapter 5: Object-oriented programming concepts
Chapter 6: Member Accessibility and Overloading
Chapter 7: Variables
Chapter 7: Class Details
Chapter 9: Interfaces
Chapter 9: OOP basics
Chapter 10: Versioning and Aliases
Chapter 11: Flow of Execution
Chapter 12: Variable Scoping and Definite Assignment
Chapter 13: Operators and Expressions
Chapter 14: Conversions
Chapter 15: Arrays and Strings
Chapter 17: Generic Types
Chapter 18: Indexers, Enumerators, and Iterators
Chapter 21: Attributes and Arrays
Chapter 22: Delegates, Anonymous Methods, and Lambdas
Chapter 24: Dynamic Typing
Chapter 25: User-Defined Conversions
Chapter 26: Operator Overloading
Chapter 28: Linq to Objects ,XML ,and SQL
Chapter 31: Other Details of C#
Chapter 32: The fundamental of .NET Framework
Chapter 33: Collection Classes
Chapter 34: Threading
Chapter 35: Parallel Programming
Chapter 38: .NET Base Class Library Overview
Chapter 39: More about C#
Chapter 41: IDEs and Utilities
| | |
| --- | --- |
| Pages : | |
| File type : | pdf |
| Downloads: | 2922 |
| Submitted On: | 2016-04-07 |
| License: | |
| Author(s): | |
Take advantage of this course called A Programmer's guide to C# 5.0 to improve your Programming skills and better understand Csharp.
This course is adapted to your level as well as all Csharp pdf courses to better enrich your knowledge.
All you need to do is download the training document, open it and start learning Csharp for free.
This tutorial has been prepared for the beginners to help them understand basic Csharp Programming. After completing this tutorial you will find yourself at a moderate level of expertise in Csharp from where you can take yourself to next levels.
This tutorial is designed for Csharp students who are completely unaware of Csharp concepts but they have basic understanding on Programming training.
Tutorials in the same categorie :