You Don't Know JS Yet: Scope and Closures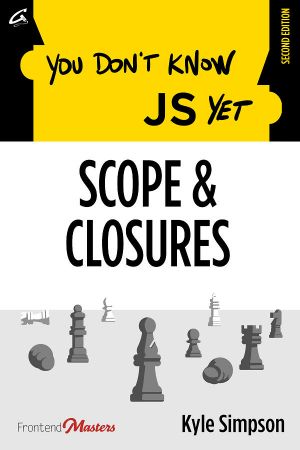 Download free course You Don't Know JS Yet: Scope and Closures, pdf file on 279 pages by Kyle Simpson.
Are you looking for a better way to deeply learn the fundamentals of JavaScript? Look no further!The foundation of all programs is the organization of its variables and functions into different nested scopes. Yet, most developers haven't deeply contemplated how and why these decisions are made and the impacts on code maintainability.The worldwide best selling "You Don't Know JS" book series is back for a 2nd edition: "You Don't Know JS Yet". All 6 books are brand new, rewritten to cover all sides of JS for 2020 and beyond."Scope & Closures" examines all aspects of lexical scope, then builds on these principles to leverage the power of closure, and finally digs into the module pattern for better program structure.
Table of contents
What's the Scope?

Illustrating Lexical Scope

The Scope Chain

Around the Global Scope

The (Not So) Secret Lifecycle of Variables

Limiting Scope Exposure

Using Closures

The Module Pattern

Exploring Further

Practice
| | |
| --- | --- |
| Pages : | 279 |
| File type : | PDF |
| Downloads: | 48 |
| Submitted On: | 2022-02-03 |
| License: | CC BY-NC-ND |
| Author(s): | Kyle Simpson |
Take advantage of this course called You Don't Know JS Yet: Scope and Closures to improve your Others skills and better understand Computer science.
This course is adapted to your level as well as all Computer science pdf courses to better enrich your knowledge.
All you need to do is download the training document, open it and start learning Computer science for free.
This tutorial has been prepared for the beginners to help them understand basic Computer science Others. After completing this tutorial you will find yourself at a moderate level of expertise in Computer science from where you can take yourself to next levels.
This tutorial is designed for Computer science students who are completely unaware of Computer science concepts but they have basic understanding on Others training.
Tutorials in the same categorie :