Home
»
Programming
»
Professor Frisby's Mostly Adequate Guide to Functional Programming
Professor Frisby's Mostly Adequate Guide to Functional Programming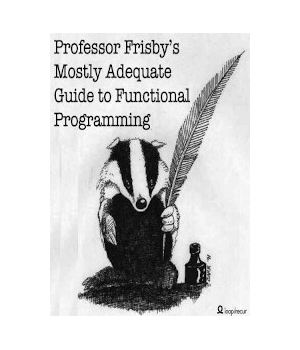 This is a book on the functional paradigm in general. We'll use the world's most popular functional programming language: JavaScript. Some may feel this is a poor choice as it's against the grain of the current culture which, at the moment, feels predominately imperative. That said, typed functional languages will, without a doubt, be the best place to code in the style presented by this book. JavaScript will be our means of learning a paradigm, where you apply it is up to you. Luckily, the interfaces are mathematical and, as such, ubiquitous. You'll find yourself at home with Swiftz, Scalaz, Haskell, PureScript, and other mathematically inclined environments.
Download free tutorial in PDF (146 pages) created by Brian Lonsdorf .
| | |
| --- | --- |
| Pages : | 146 |
| File type : | HTML |
| Downloads: | 2 |
| Submitted On: | 2021-05-15 |
| License: | Free |
| Author(s): | Brian Lonsdorf |
Take advantage of this course called Professor Frisby's Mostly Adequate Guide to Functional Programming to improve your Programming skills and better understand Functional Programming.
This course is adapted to your level as well as all Functional Programming pdf courses to better enrich your knowledge.
All you need to do is download the training document, open it and start learning Functional Programming for free.
This tutorial has been prepared for the beginners to help them understand basic Functional Programming Programming. After completing this tutorial you will find yourself at a moderate level of expertise in Functional Programming from where you can take yourself to next levels.
This tutorial is designed for Functional Programming students who are completely unaware of Functional Programming concepts but they have basic understanding on Programming training.
Tutorials in the same categorie :