Tutorial AngularJS in PDF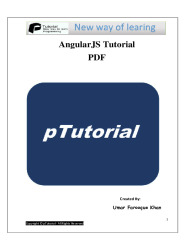 This course provides an overview of AngularJS framework, a good PDF tutorial on 26 pages intended to intermediate level-users.
This training will allow you to deepen your knowledge of the internal mechanisms of AngularJS.You will learn how to organize your developments from testing to optimizing applications while implementing good practices. You will also develop business Customized components.
Table of contents
Introduction
Advantages
Disadvantages Of AngularJS
AngularJS Example
Step By Step AngularJS App
The AngularJS Components
AngularJS Directives
Ng-Model Directive
The ng-repeat Directive
ng-repeat Example
AngularJS – Expressions
AngularJS Objects
AngularJS Arrays
AngularJS Controller
AngularJS Controller Example
Explanation of Controller Example
AngularJS Ajax
AngularJS Filter
Uppercase Filter Example 
What are the advantages of Restangular over $resource and $http?
AngularJS Scope & Events
How to manage cookie in AngularJS?
What is difference between $cookies and $cookieStore service?
AngularJS Services, Factories, and Providers
Developing Single Page Blogger
What directives support animations?
Using REST APIs in Single Page Blogger
AngularJS Directives
Adding a Comment System to Single Page Blogger
Dependency Injection In AngularJS
AngularJS Filters
How to securely parse and manipulate your HTML data in AngularJS?
What is Angular 2.0?
AngularJS Animation
Deployment and Internationalization
| | |
| --- | --- |
| Pages : | |
| File type : | pdf |
| Downloads: | 490 |
| Submitted On: | 2017-03-08 |
| License: | |
| Author(s): | |
Take advantage of this course called Tutorial AngularJS in PDF to improve your Web development skills and better understand AngularJS.
This course is adapted to your level as well as all AngularJS pdf courses to better enrich your knowledge.
All you need to do is download the training document, open it and start learning AngularJS for free.
This tutorial has been prepared for the beginners to help them understand basic AngularJS Web development. After completing this tutorial you will find yourself at a moderate level of expertise in AngularJS from where you can take yourself to next levels.
This tutorial is designed for AngularJS students who are completely unaware of AngularJS concepts but they have basic understanding on Web development training.
Tutorials in the same categorie :