Getting Started with AngularJS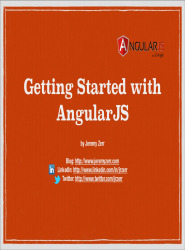 This training will give you mastery of the key functionalities of the framework: filters,Controllers, templates ... You will also see its integration in a REST architecture
In order to take full advantage of The AngularJS training, it is Desirable to possess good Knowledge of HTML,Web technologies and JavaScript.
AngularJS is a fast-growing Javascript framework designed to structure and simplify development Rich client-side applications.
Developed by Google under open-source license, it natively integrates all features Usually obtained by assembling specialized libraries: routing, templates, bindings,REST calls ...
Its robustness, versatility and integrated test bench make it an essential element Of all web applications oriented REST!
Table of contents
What is AngularJS
Requirements
AngularJS Examples
Starter AngularJS app
templating
controller
What is a $scope?
AngularJS documentation on $scope
Using client-side models from different data sources
Using JSON in initial page load
Using REST API & JSON file
Templating methods
Templating method:Javascript
Templating method:
Two-way data binding
ng-model + ng-class
Filters and Formatters
Watch a $scope variable
Watch a $scope variable (code)
Client-side routing
Client-side routing (code)
Other Notable Directives
Interacting with a REST API
How Does $watch Work
Creating a custom directive
Creating a custom directive
Directive Best Practices
What I haven't (and won't) cover in detail
Why Use AngularJS?
Why should you use AngularJS in your next web app?
Weaknesses of AngularJS
AngularJS vs. Backbone.js
| | |
| --- | --- |
| Pages : | |
| File type : | pdf |
| Downloads: | 796 |
| Submitted On: | 2017-03-08 |
| License: | |
| Author(s): | |
Take advantage of this course called Getting Started with AngularJS to improve your Web development skills and better understand AngularJS.
This course is adapted to your level as well as all AngularJS pdf courses to better enrich your knowledge.
All you need to do is download the training document, open it and start learning AngularJS for free.
This tutorial has been prepared for the beginners to help them understand basic AngularJS Web development. After completing this tutorial you will find yourself at a moderate level of expertise in AngularJS from where you can take yourself to next levels.
This tutorial is designed for AngularJS students who are completely unaware of AngularJS concepts but they have basic understanding on Web development training.
Tutorials in the same categorie :