Java self learning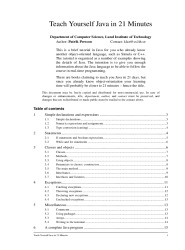 Download free Java tutorial for self learning , course tutorial training on pdf under 515 pages by Laura Lemay and Charles L. Perkins.
This book is written to learn how to use Java to create applets and applications ,it is designated to intermediate-level users who has at least some basic programming background.
Table of contents
An Introduction to Java Programming
Java Basics
Variable Types
Expressions and Operators
Java Applet Basics
Object-Oriented Programming and Java
Objects and Classes
Packages and Interfaces
The Java Class Library
Diffreneces betwen Java and C++
Calling Methods
Creating Instance and Class Variables
Java Applications and Command-Line Arguments
Creating Applets
The Graphics Class
Simple Animation and Threads
Managing Events
Panels and Layout
Networking in Java
Creating and Using Threads
| | |
| --- | --- |
| Pages : | |
| File type : | pdf |
| Downloads: | 2479 |
| Submitted On: | 2015-11-16 |
| License: | |
| Author(s): | |
Take advantage of this course called Java self learning to improve your Programming skills and better understand Java.
This course is adapted to your level as well as all Java pdf courses to better enrich your knowledge.
All you need to do is download the training document, open it and start learning Java for free.
This tutorial has been prepared for the beginners to help them understand basic Java Programming. After completing this tutorial you will find yourself at a moderate level of expertise in Java from where you can take yourself to next levels.
This tutorial is designed for Java students who are completely unaware of Java concepts but they have basic understanding on Programming training.
Tutorials in the same categorie :